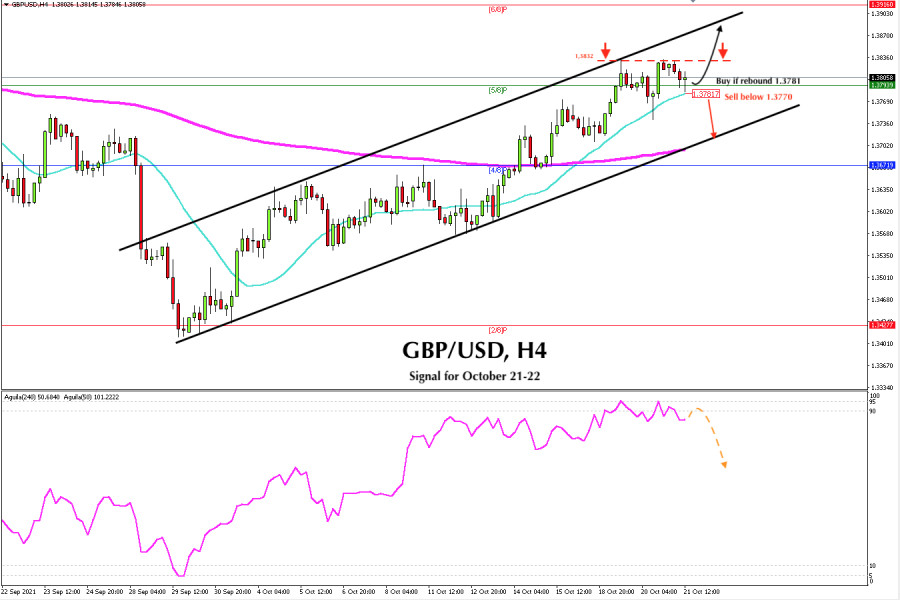 The GBP/USD pair has formed a double top at the 1.3832 level. On October 19 and 20, it tried to break through this resistance level, but has not been able to achieve it. Since then, it has been consolidating below this level. Immediate support is found at the 21 SMA around 1.3781 at 5/8 Murray (1.3793).
There is some downward pressure below 1.3832. If GBP/USD fails to break through this resistance and consolidate above, a technical correction towards the bottom of the bullish channel may occur around 1.3715.
Risk aversion in the markets is weakening demand for GBP due to recent concerns about a credit crunch in China's real estate sector. This has helped the US dollar to consolidate around the 200 EMA, showing a slight bullish attempt and preventing GBP from continuing its upward movement to the 1.3916 level.
Since September 29, the British pound has been operating within a bullish channel which is still intact. This means that if it makes a technical rebound at 1.3881 or falls to the bottom of the bullish channel around the 200 EMA located at 1.37, it will be a good opportunity to buy from both levels with targets at 1.3916, a zone of strong resistance of 6/8 murray.
The eagle indicator shows a different picture as it has been testing the 95 level for two consecutive days and is also giving an overbought signal. This could mean that in the next few days there could be a downward correction for the GBP/USD pair, at least up to the support at 1.3700.
On the other hand, a sharp break above 1.3832 will be the resumption of the upward movement, and we can buy with targets at 1.3916. If this happens, it will be considered a pullback. A strong overbought status could cause it to fall quickly if it touches this area.
Support and Resistance Levels for October 21 - 22, 2021
Resistance (3) 1.3889
Resistance (2) 1.3853
Resistance (1) 1.3818
----------------------------
Support (1) 1.3761
Support (2) 1.3705
Support (3) 1.3669
***********************************************************
A trading tip for USD/JPY for October 21 - 22, 2021
Buy if rebound 1.3781 (SMA 21), with take profit at 1.3832 and 1.3916 (6/8), stop loss below1.3750.
The material has been provided by InstaForex Company -
www.instaforex.com