Famous author Nassim Nicholas Taleb made a post on Twitter this Friday morning to express his stance on Bitcoin. He explained that he is not bearish on the cryptocurrency, and the reason why he was not able to buy at the price of 8,000 is because of a technical failure.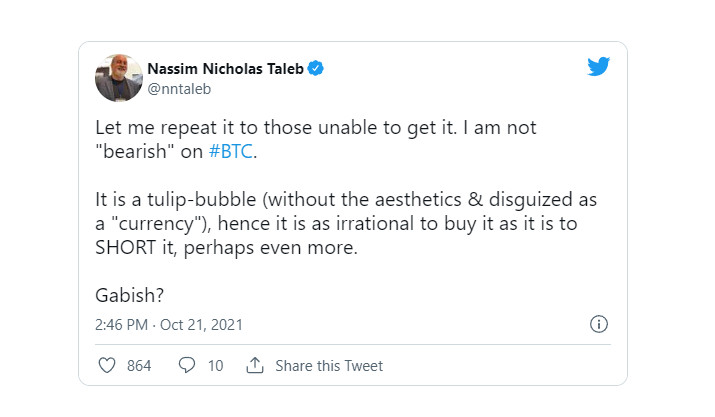 In the post, Nassim compared Bitcoin to tulips, saying it skyrockets before collapsing. As such, buying it as it is will be as irrational as selling it. But he clarified that he has nothing against the cryptocurrency, despite calling it a Ponzi scheme just recently.
On a different note, Wall Street warned that the current boom brought by the launch of the first US Bitcoin ETF may come at a cost. Strategists from JPMorgan said a very sharp rise in demand could distort the futures market, flaming investor spending on ETFs along the way.
Over the past two days, the new ProShares Bitcoin Strategy ETF (ticker: BITO) has raised a whopping $ 1.1 billion, making it one of the most successful launches in history. But the problem is in the carryover of futures contracts after expiration, which are managed by the ETF of the fund. Considering that the ProShares Bitcoin Strategy (BITO) ETF alone already accounts for a quarter of open interest in both October and November contracts, this will drive up and distort the futures curve relative to spot prices and the difference between contracts, which will lead to increased costs for their transfer.
This means that the transfer cost for ETFs may increase several times higher than the cost of managing the product itself, which, as a rule, is quite paltry. In the case of BITO, the expense ratio is 0.95%.
Unsurprisingly, there is no queue to create a new Bitcoin ETF as many companies are awaiting SEC approval for the underlying asset.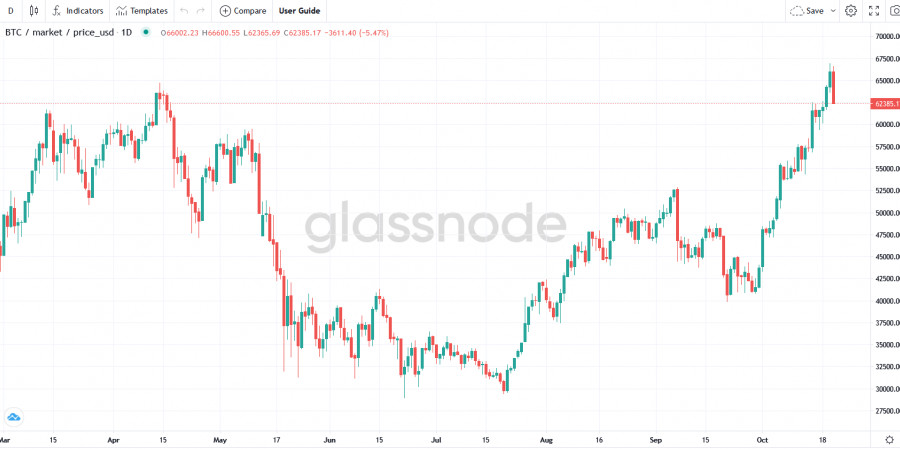 Technical analysis on Bitcoin
BTC is currently hovering at $ 65,000 and it seems that it will continue climbing up in the coming days. However, with each upward movement, the number of buyers are decreasing. As such, everything will depend on the level of greed of investors, as falling below $ 62,000 will lead to a drop to $ 58,000 and $ 54,400.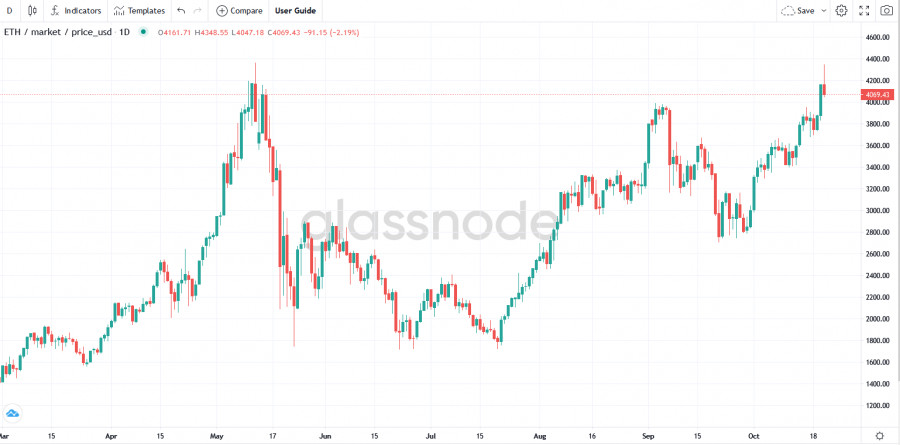 Technical analysis on Ethereum
ETH saw a massive sell-off, which brought the price back to $ 4,100. It is difficult to say how the altcoin will behave further, but it is clear that if it drops below $ 4,050, real problems will begin. In this case, it will be a quick fall to $ 3800 and $ 3600.
The material has been provided by InstaForex Company -
www.instaforex.com