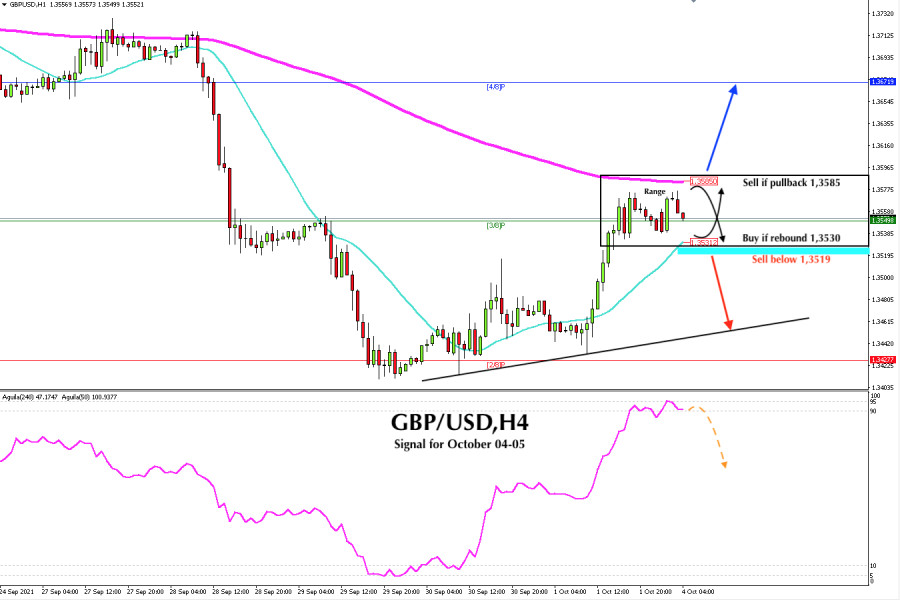 GBP/USD is trading below the EMA of 200 located at 1.3585 and above the SAM of 21 located at 1.3531. This may be the price range for the next few hours as the eagle indicator is showing a bearish sign and the pair is showing a sign of exhaustion.
The 2/8 murray level represents a very strong resistance level. Since September 29, it has been bouncing above this level to find resistance at 1.3585 (200 EMA). If the pair fails to break and consolidate above the moving average, it is likely to make a reversal towards the zone of 1.3460, where an uptrend channel is located.
On the other hand, 1.3530 can offer some support where there is the SMA of 21, which gives bullish momentum. GBP/USD could get stuck in a range for the next hours. If it closes below 1.3420 in the 1-hour chart, it could fall to support of 1.3427 (2/8 murray level).
The dollar index reached the multi-month high of 94.50 according to weekly charts. The index is located above the EMA of 200 (94.06). While it remains above the key level of 94.00, it is likely to continue exerting downward pressure on the British pound in the coming days.
Therefore, any technical bounce in GBP / USD towards the resistance at 1.3585 or if it reaches 4/8 of a murray (1.3671) will be a good opportunity to sell. The 200 EMA on the 4-hour chart is located at 1.3709, the outlook will remain bearish below this level and it may give us a good selling opportunity.
The latest news says that the fuel shortage in the United Kingdom could last another week. This crisis is likely to limit the strength of the British pound. Before any recovery movement, the bears may continue to sell the pair.
The market sentiment report shows that 69.2% of operators are selling the pound. This is a bearish sign for the pair. If this figure increases, the price could fall deeper to the level of 1.3427 and 1.3305 (1/8 murray level).
Support and Resistance Levels for October 04 - 05, 2021
Resistance (3) 1.3658
Resistance (2) 1.3600
Resistance (1) 1.3560
----------------------------
Support (1) 1,3516
Support (2) 1.3458
Support (3) 1.3427
***********************************************************
Trading tip for GBP/USD for October 04 - 05, 2021
Sell if it makes a pullback 1.3585 (EMA 200) with take profit at 1.3585 and 1.3671 (4/8), stop loss below 1.3550.
Buy if it rebounds at 1.3530 (SMA 21) with take profit at 1.3585, stop loss below 1.3500.
The material has been provided by InstaForex Company -
www.instaforex.com