After Monday's trading session, bitcoin jumped by more than 4% hitting a five-month high at $57,800. At the time of writing, the asset is trading at $57,000.
BTC showed a spectacular rally amid a decline in leading altcoins. Ethereum fell by 0.25% to $3508.32, while Binance Coin lost 2.1% and logged at $407.84.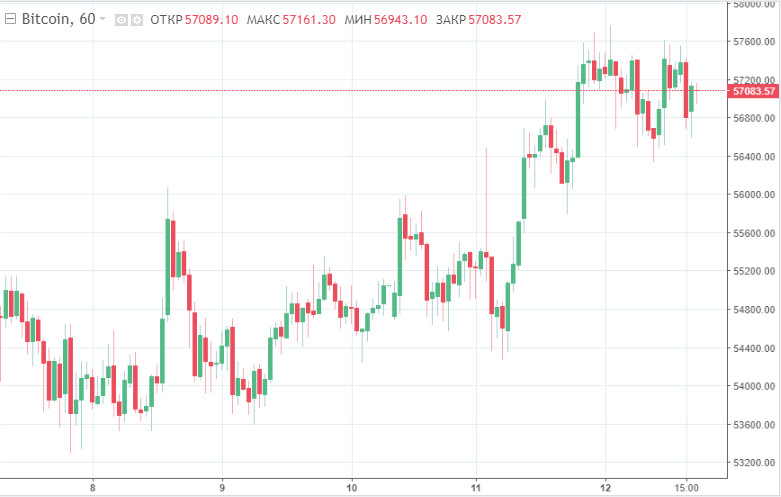 At the same time, the bitcoin dominance ratio reached 46%. Analysts say that investors are waiting for the SEC to approve the establishment of two bitcoin ETFs in the US. The anticipation of this milestone makes bitcoin gain momentum for further growth.
Recently, market analysts announced that the SEC may approve the ETFs in late October. The ETFs' potential approval is explained by the fact that they trade in BTC futures rather than in bitcoins.
The Securities and Exchange Commission's decision about the ETFs is important to bitcoin investors because it is likely to affect the next bullish momentum, which may lead the asset to new all-time highs. The bitcoin ETFs will provide seamless access to the leading cryptocurrency for a large number of US residents, which may stimulate a significant money inflow into the asset and lead to its further growth.
The US Senate voted to temporarily raise the country's national debt limit, which supported bitcoin's bullish sentiment. In the future, this may positively affect the stock market and encourage major investors who have an impact on the bitcoin price.
During the last week, investors more than doubled volumes of funding in cryptocurrency funds amid bullish sentiment prevailed among digital asset market players. At the same time, funds based on leading altcoins showed a downward trend. Cardano and Solana's funds became an exception.
Another important driver for bitcoin's growth was the increasing outflow of the asset from cryptocurrency exchanges. According to the analytics company CryptoQuant, the volume of BTC on the trading platforms at the moment is at its lowest level since the end of 2017.
Some analysts say that today the cryptocurrency market is approaching the end of the price rally. The market is likely to face a correction, which is quite predictable, given the indicators of the recent growth.
Other experts emphasize the bullish sentiment of the market at the moment. BTC is expected to reach $60,000 by the end of this month.
The material has been provided by InstaForex Company -
www.instaforex.com