EUR/USD
The dollar index fell by 0.12% on Tuesday, as investors continued to inertly buy up counterdollar currencies in the absence of new incoming data following Federal Reserve Chairman Jerome Powell's speech from last Thursday. We expect new data today, potentially capable of stopping and significantly outstripping the reaction of investors. Such data might be indicators of business activity in the eurozone and the United States, as well as European data on inflation and employment.
So, the final estimate of the eurozone Manufacturing PMI for August is expected to remain unchanged at 51.7 points, the US ISM Manufacturing PMI is expected to grow from 54.2 to 54.6. The eurozone consumer price index for August may weaken from 0.4% y/y to 0.2% y/y, and the unemployment rate may also show an increase from 7.8% to 8.0%. Perhaps, the employment index will be a key event today, as data on the US will be released on Friday and unemployment there is projected to fall from 10.2% to 9.8%. At the same time, today's data on construction spending in the July estimate is expected to grow by 1.0%.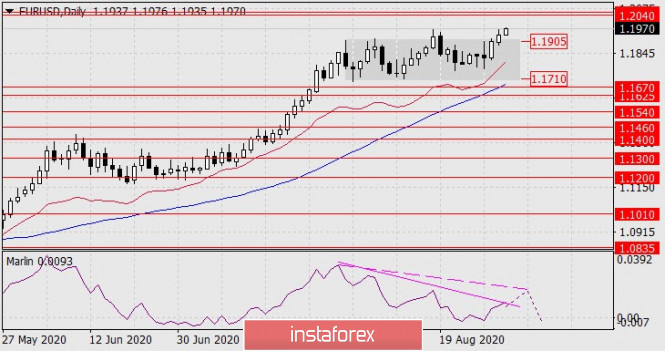 The daily chart shows that the price moved up from the uncertainty zone and now it has two equally probable scenarios: return to this free roaming range as it happened on August 19, if today's macro data turns out to be effective, or continue to grow into the target range of 1.2040/55 in case of ambiguous data release...
The Marlin oscillator, which has formed a divergence with the price, is also ready for two scenarios: completing the nearest development from the current levels, and with its arrangement above, approximately in the area of the dashed line.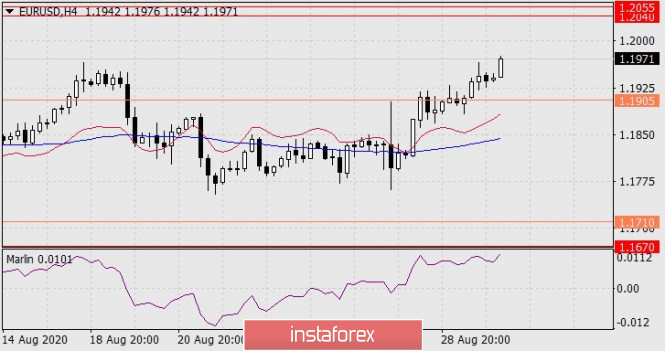 There are no signs of a reversal on the four-hour chart yet. The signal line of the Marlin oscillator is moving horizontally and may continue to rise. We are waiting for the development of events. Trading in both directions carries an equal risk of uncertainty.
The material has been provided by InstaForex Company -
www.instaforex.com