Hourly chart of the EUR/USD pair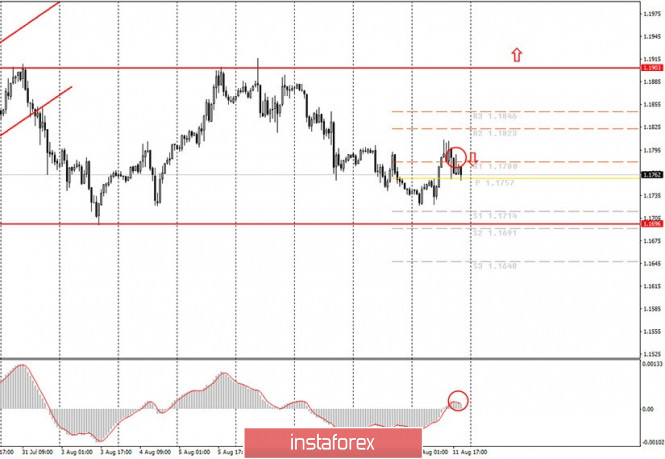 The EUR/USD pair began to correct upward again on Tuesday, August 11, which was signaled by the MACD indicator with an upward reversal at night. In fact, the correction began at night trading and did not stop throughout the day. Thus, novice traders did not receive a new sell signal. Therefore, short positions should not have been opened. We did not recommend buying the pair, since the upward trend is temporarily paused, and the price has not yet reached the 1.1696 level (the previous price low). However, take note that the volatility of the EUR/USD pair increased on Tuesday, so we can expect stronger moves on Wednesday and the rest of the week.
Fundamentally speaking, there was nothing to analyze on Tuesday. No important economic news and reports on that day. However, there was not even much usual news, and most of it came from America again. Although, there is no particularly interesting information here even for novice traders. An unknown person opened fire during a regular briefing by US President Donald Trump. Where the attacker was shooting and why he did so is unknown. After all, the president was at a press conference inside the White House. Thus, even theoretically, the attacker could not inflict any harm on the US president. Nevertheless, this news had a very negative impact on the US currency, which, as we said above, began to fall overnight. Several macroeconomic reports from Europe did not have a particular impact on the pair's quotes. All of them reflected the economic expectations of major investors and managers in Germany and the European Union.
Novice traders are advised to carefully study two reports on Wednesday, August 12. The first will be published in the morning - industrial production in the European Union. The second - after lunch - inflation in the United States. Industrial production has a huge impact on GDP and is therefore considered a fairly important report. It is expected to grow by 10% m/m by the end of June. As for inflation in America, the main indicator (which takes into account absolutely all prices) is projected to rise to 0.8% y/y, while inflation excluding food and energy (volatile commodity groups) may slow to 1.1% y/y. g. In general, these figures do not indicate either a serious improvement in the situation or a serious deterioration. Recall that, in principle, any value of core inflation below 2% is considered weak, since the Federal Reserve (the US central bank) is exactly aiming for 2% y/y.
The following scenarios are possible on August 12:
1) Purchases of the pair remain irrelevant at this time, since the price was not able to overcome the 1.1903 level. Traders are currently deprived of buy signals. Based on this, we do not recommend trading the pair up. We still believe that quotes should fall at least to the 1.1696 level, and only after that it will be possible to speculate about a possible resumption of the upward trend.
2) Selling the currency pair is still more promising now, at least with the target of 1.1696 (the previous local low). There are now about 60 points to this goal, but with the current volatility, even these 60 points will be difficult to pass. The MACD indicator reversed down just a few hours ago, so now there is a signal for new sales with targets at 1.1714 and 1.1696. Leaving a trade open overnight for novice traders is a bit risky, so if you do this, you must set Take Profit and Stop Loss.
What's on the chart:
Support and Resistance Price Levels - Levels that are targets when buying or selling. You can place Take Profit levels near them.
Red lines - channels or trend lines that display the current trend and show which direction it is preferable to trade now.
Arrows up/down - indicate when you reach or overcome which obstacles you should trade up or down.
MACD indicator is a histogram and a signal line, the crossing of which is a signal to enter the market. It is recommended to use in combination with trend lines (channels, trend lines).
Important speeches and reports (always contained in the news calendar) can greatly influence the movement of a currency pair. Therefore, during their exit, it is recommended to trade as carefully as possible or exit the market in order to avoid a sharp price reversal against the previous movement.
Beginners in the forex market should remember that every trade cannot be profitable. The development of a clear strategy and money management are the key to success in trading over a long period of time.
The material has been provided by InstaForex Company -
www.instaforex.com