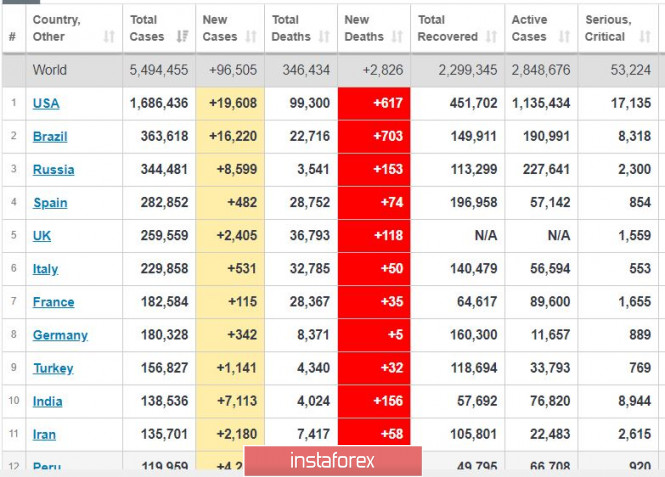 Coronavirus updates from around the world (official data as of the morning of May 25): There's an improvement in the US. Brazil shows signs of a slowdown.
In the US, daily deaths finally fell below 1,000, and the daily increase of new cases remains at almost 20 thousand per day. The premature lifting of quarantine measures by the US authorities led to the protracted pandemic and unjustified deaths.
The world is actively working on a vaccine. The first successful testing of it was in the US, under a company called Moderna Inc, which reported a successful trial with human volunteers. Meanwhile, in Russia, clinical trials of a vaccine will most likely occur no later than September.
Most countries are opening their economies. Japan and Europe have reportedly removed quarantine restrictions already, especially since Europe already observes the retreat of the pandemic. Even the most affected countries such as Italy and Spain have opened their economies. In the UK, however, the number of new cases is still relatively high, with about 2,400 new cases per day. Mortality, meanwhile, remains low.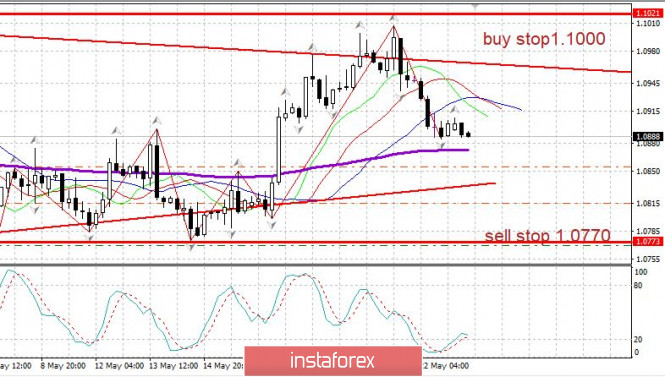 EUR/USD: The quotes are returning to its previous range. The attempt to start an upward trend last week failed.
Keep holding buy positions from 1.0855, but it is likely that the positions will go to a breakeven.
In such a case, work on a breakout of 1.1000.
Open sell positions at 1.0770.
US News: The Fed is scheduled to publish the Beige Book on Wednesday, which will reveal the real state of the US economy. Unemployment in the US has already reached a whopping 25 million. At the same time, the US and China are exchanging tough statements, with the US threatening China with new sanctions for tightening the political regime in Hong Kong.
The weekly US unemployment report will be published on May 28, and the news on household income and expenses in the US will be published on May 29. The two data are important for the market.
The material has been provided by InstaForex Company -
www.instaforex.com