4-hour timeframe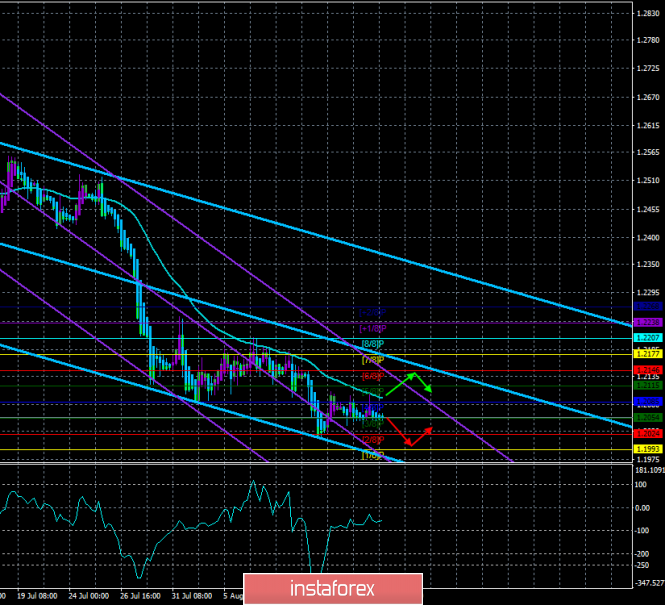 Technical data:
The upper linear regression channel: direction – down.
The lower linear regression channel: direction – down.
The moving average (20; smoothed) – down.
CCI: -65.3342
Frankly speaking, there is an impression that Boris Johnson has no accurate plan of action. He quickly refused new negotiations with the European Union, only pretending that he wants to resume them. However, according to many political scientists and experts, the proposal to "delete backstop from the text of the agreement" was a failure. That is, it's about how to offer the European Union out of the blue to abandon the British payment of 50 billion euros for Brexit. Thus, with such a "generous" offer, it was immediately clear that there would be no new negotiations. After the form was made, Johnson began to actively promote "hard" script, not forgetting to regularly deliver speeches accusing the government of the European Union in the refusal of new negotiations, which could help to avoid disordered Brexit. Now, Johnson's "work" has found application in Parliament. Logically fearing that most parliamentarians would refuse to support the "hard" Brexit, Johnson began to accuse Labor and all opponents of such a scenario in cooperation with the EU and not patriotism. In public, again, Johnson looks like a leader who leads his country to implement the will of 2016, but he is actively prevented by Labor, the EU government. The same strategy was used by Theresa May, who actively urged the Parliament to vote for her "deal", also accusing her of non-patriotism, lack of unity at a difficult moment for the country. Well, the pound sterling can only watch everything happening and wait for October 31. And if the "hard" Brexit will still be implemented, the loss of the pound in 2019 can be much worse than the current. The pound/dollar pair remains close to historic lows, while the bulls remain outside the forex market.
Nearest support levels:
S1 – 1.2054
S2 – 1.2024
S3 – 1.1993
Nearest resistance levels:
R1 – 1.2085
R2 – 1.2115
R3 – 1.2146
Trading recommendations:
The GBP/USD pair is inclined to resume the downward trend. Therefore, it is still recommended to sell the British currency with the targets of 1.2024 and 1.1993 until the new turn of the Heiken Ashi indicator to the top. The mood of traders is definitely "bearish", so purchases are associated with high risks.
In addition to the technical picture, you should also take into account the fundamental data and the time of their release.
Explanation of illustrations:
The upper linear regression channel – the blue line of the unidirectional movement.
The lower linear regression channel – the purple line of the unidirectional movement.
CCI – the blue line in the indicator regression window.
The moving average (20; smoothed) – blue line on the price chart.
Murray levels – multi-colored horizontal stripes.
Haiken Ashi is an indicator that colors bars in blue or purple.
The material has been provided by InstaForex Company -
www.instaforex.com