4-hour timeframe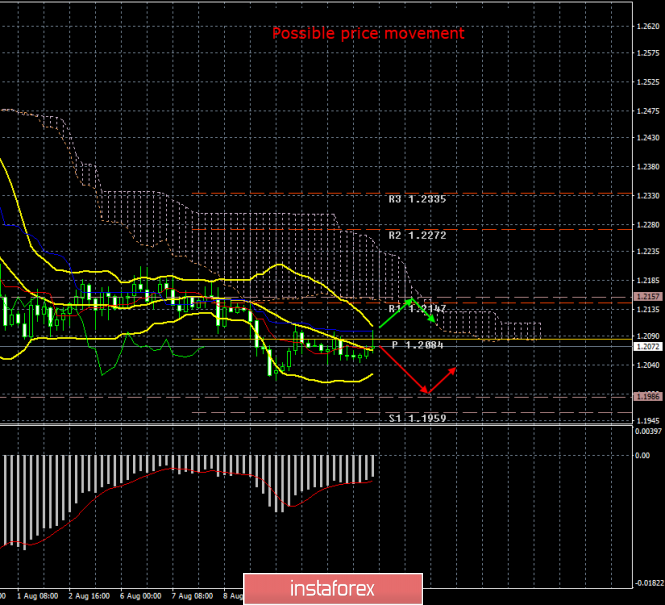 Amplitude of the last 5 days (high-low): 70p - 88p - 126p - 92p - 56p.
Average amplitude over the last 5 days: 86p (90p).
Over the past few days, we have repeatedly drawn the attention of traders to the fact that there are very few supporters of the hard Brexit in the UK. There are enough supporters of Brexit, but only few of hard Brexit. Simple numbers speak of this. If 52% voted for leaving the EU in a referendum in 2016, it is logical to assume that not all of them support Brexit without agreement. Accordingly, they agree to a "divorce" with the EU without a "deal" much less than 50%. Moreover, opponents of the hard Brexit are almost all the ministers of the former Cabinet before the arrival of Boris Johnson. Someone who opposes is the head of the Bank of England, Mark Carney, who has repeatedly warned that such a scenario of withdrawal from the jurisdiction of Brussels could be disastrous for Great Britain's economy. Also, if you look a little into the future, then not only economic problems await the UK, but also the possible losses of Scotland and Northern Ireland. Now ex-Minister of Finance Philip Hammond spoke about this issue. He said that leaving without an agreement is not what the citizens of Great Britain voted for in 2016. "Most citizens want to maintain their current standard of living and avoid losing jobs, and the lack of a deal now looks like a betrayal of the 2016 referendum," said Hammond. In addition, a report on inflation was published in the UK today, according to which the indicator accelerated to 2.1% in July instead of the forecast 1.9%. Good news, but not for the UK, in which inflation is now accelerating due to the pound's fall. If there had been no rapid depreciation of the British currency, then inflation would have been at the average European level, about 1.0% - 1.3%.
Trading recommendations:
The GBP/USD currency pair corrected once again to the Kijun-sen line and also went into the side channel. Thus, short positions that are aiming for 1.1986 remain relevant, and the bearish mood remains below the critical line. Pound sterling purchases are risky anyway.
In addition to the technical picture, fundamental data and the time of their release should also be taken into account.
Explanation of the illustration:
Ichimoku indicator:
Tenkan-sen is the red line.
Kijun-sen is the blue line.
Senkou Span A - light brown dotted line.
Senkou Span B - light purple dashed line.
Chikou Span - green line.
Bollinger Bands Indicator:
3 yellow lines.
MACD indicator:
Red line and bar graph with white bars in the indicator window.
The material has been provided by InstaForex Company -
www.instaforex.com