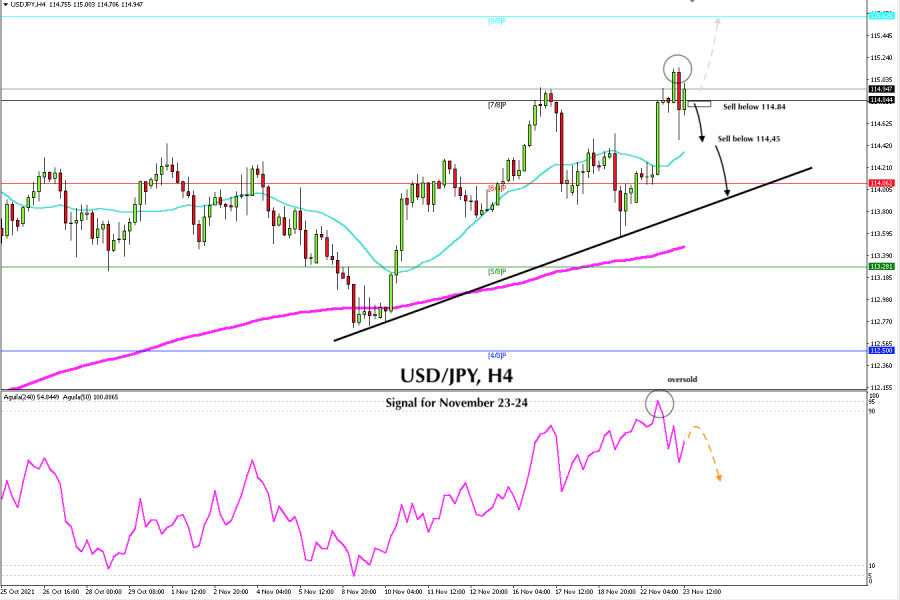 Since November 10, USD / JPY started a new upward wave reaching a high of 115.14, the highest level since March 2017. You can see on the 4-hour chart that the Japanese yen is trading within an upward channel. A technical correction is expected in the next few hours towards the 21 SMA located at 114.50.
On November 22, the eagle indicator touched the 95-point level, which represents an extremely oversold level. This is a key signal and we can take advantage of selling USD / JPY as long as it remains below 115.00. Our target will be at 6/8 murray around 114.06.
The key event was the nomination of Jerome Powell to head the Federal Reserve for a second term. The US Treasury bonds obtained a yield of 1.63%. This made the USD / JPY rise, reinforcing strength of the US dollar and weakening the yen that has printed a new annual high.
Market sentiment is in favor of the US dollar. With Powell as Fed chief, the market reaffirmed expectations of a monetary tightening earlier than previously anticipated. The yen is likely to continue its weakness in the medium term, but a technical correction is expected first.
The short-term outlook continues to be bullish as long as the pair remains above the 200 EMA located at 113.50. Any pullback will be considered a technical correction and it could be a good opportunity to continue buying the yen in the coming days.
Our trading plan is to sell below 114.84 with targets at 114.50 and up to 114.06. A consolidation above 6/8 of murray located at 114.00 will be a signal to buy the yen again with targets at 115.62 (8/8).
Support and Resistance Levels for November 23 - 24, 2021
Resistance (3) 116.17
Resistance (2) 115.56
Resistance (1) 115,23
----------------------------
Support (1) 114.56
Support (2) 114.06
Support (3) 113.49
***********************************************************
A trading tip for USD/JPY for November 23 - 24, 2021
Sell below 114.84 (7/8) with take profit at 114.50 (21 SMA) and 114.06 (6/8), stop loss above 115.23.
The material has been provided by InstaForex Company -
www.instaforex.com