The EUR/USD pair is trading at 1.1278 showing slight strength after consolidating above the support of 4/8 murray. On the 4-hour chart, we see a technical correction. It is likely that there will be a bounce at the 21 SMA or 1.1230 (4/8).
The World Health Organization (WHO) warned that the new variant of COVID-19 Omicron has an unprecedented number of spike mutations and the contagion is more aggressive. The euro could weaken if additional measures are introduced in Europe to slow the spread of the new variant.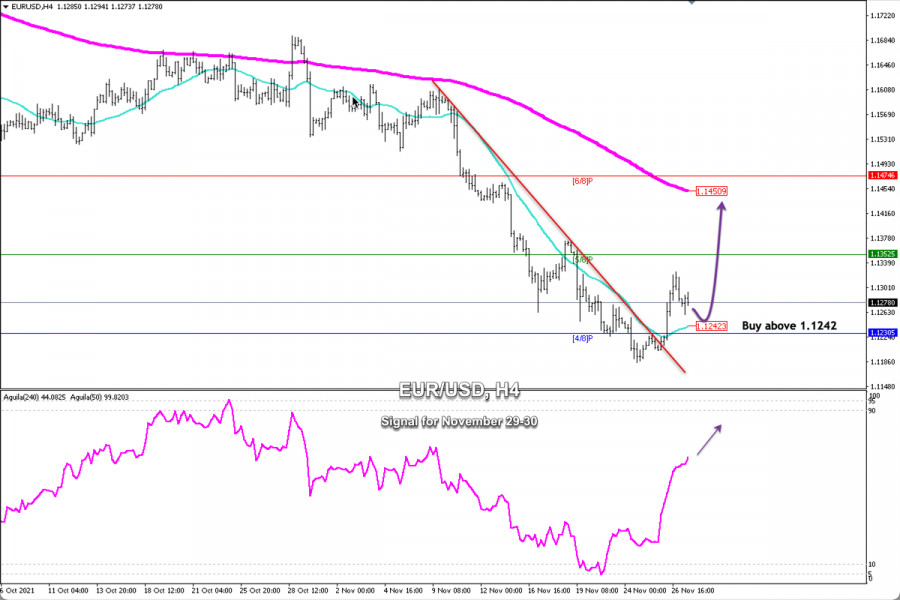 On November 26, the euro managed to break the downtrend channel and is now consolidating above the SMA of 21. A correction is expected in the next few hours towards the support level of 1.1230. A technical rebound around this zone will give us a good opportunity to buy EUR/USD with targets at 1.1352.
According to the 4-hour chart, the euro is oversold and has strong support at 4/8 of murray located at 1.1230. In the next few hours, if the euro falls to this level and rebounds, it will be a good opportunity to buy.
Our forecast in the next few hours for the euro is a consolidation above 1.1242. As long as EUR / USD is trading above this zone, we will have an opportunity to buy with the target at 1.1352.
The market sentiment report for today, November 29, shows that there is 67.27% of operators who are buying the EUR / USD pair. This data provided a bearish sign in the long term. It is bearish because investors act against the trend. First, we could expect a recovery to 1.1450. Then, the price may again resume its downward movement with the target at 1.1116.
Support and Resistance Levels for November 29 - 30, 2021
Resistance (3) 1,1403
Resistance (2) 1.1352
Resistance (1) 1.1282
----------------------------
Support (1) 1.1230
Support (2) 1.1160
Support (3) 1.1134
***********************************************************
A trading tip for EUR/USD November 29 - 30, 2021
Buy in case of rebound off or buy above 1.1242 (4/8) with take profit at 1.1352 (5/8) and 1.1450 (200 EMA), stop loss below 1.1205.
The material has been provided by InstaForex Company -
www.instaforex.com