Bitcoin (BTC) made a pullback to the 21-day SMA located at 62,554 this is important key support. Investors may buy back around this level. BTC has been trying to rise above this area for more than 6 days. In the Asian session, Bitcoin is trading at 65,948, approaching its all-time high. The daily chart shows that on November 10, BTC has reached an overbought level. After reaching the 3/8 Murray level, the BTC made a correction to 2/8 Murray located at 62,500 which may lead to a 10% loss. According to the eagle indicator, on November 10, it has reached 95, which indicates an imminent correction in the coming days. As long as it remains below 3/8 Murray we expect the correction to continue to the strong support at 62,500. A sharp break below the 21 SMA could accelerate the decline to the 1/8 Murray level located at 56,520.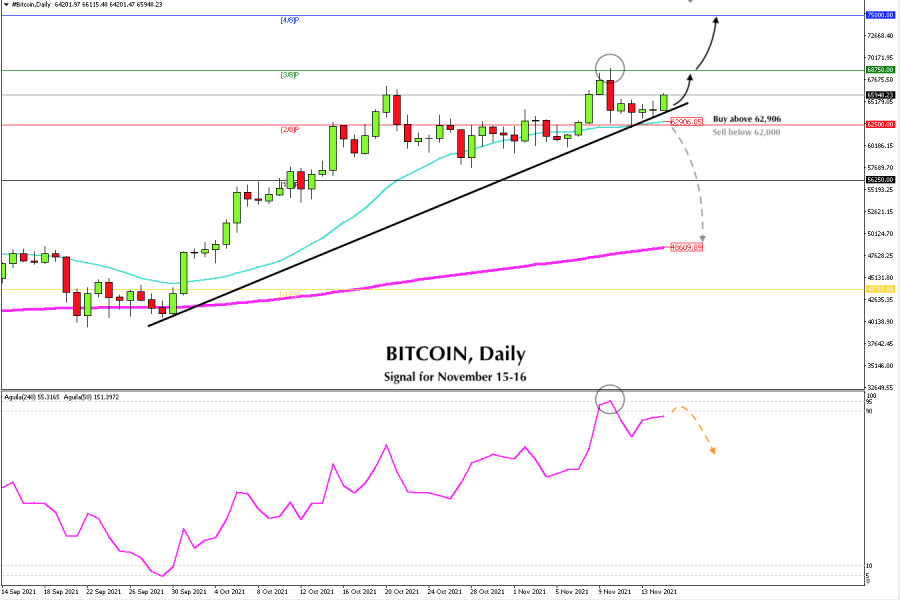 If the price bounces around 62,500 where the 21 SMA is located, investors will try to push the price above the all-time high. BTC could reach the new high around 4/8 Murray at $75,000.
On the other hand, a breakout and close below the SMA of 21 and 2/8 of Murray will indicate that investors may rush to close their positions and take profits.
If this happens. BTC could fall as low as 0/8 of a Murray at the psychological level of $50,000.
A daily close below the 200 EMA located at 48,609 could indicate the start of a more sustained correction and the start of a downtrend towards support 43,750 (-1/8) and up to the psychological level of 40,000.
In the next few hours as long as it remains above the uptrend channel formed since September 26, we expect it to continue to rise and it may be an opportunity for us to continue buying the BTC with targets at 68,750 and up to 75,000.
Support and Resistance Levels for November 15 - 16, 2021
Resistance (3) 68,059
Resistance (2) 66,909
Resistance (1) 66,080
----------------------------
Support (1) 63,393
Support (2) 62,500
Support (3) 61,287
***********************************************************
A trading tip for BTC for November 15 - 16, 2021
Buy above 62,906 (7/8) with take profit at 68,750 (3/8) and 75,00 (4/8) stop loss below 61,900.
The material has been provided by InstaForex Company -
www.instaforex.com