The technical picture on the Bitcoin chart is starting to cause concern. The support line of the hypothetical upward channel has not been broken yet. But remember that this channel is just an outline, not a technical constant.
But the fact that the price is hitting the mirrored resistance level of 61,048.64 in the process of an alleged rebound in a trend is starting to cause concern. Well, 60,000 - 61,000 is a key support zone, and, as previously assumed, breaking through it, Bitcoin could fall to $55,000, or even $52,000 per coin.
What does Bitcoin's correlation with the stock market tell us?
According to a recent Bloomberg report, Bitcoin's correlation with the Nasdaq 100 during the pandemic has dropped to almost zero in recent days. The correlation peaked in September 2021. Back then, tech stocks and Bitcoin traded almost in parallel. The correlation between the two has always remained positive since February 2020.
However, the situation has changed in recent months. The Nasdaq is up 11% since late September 2021. On the other hand, Bitcoin added 40%.
This divergence occurs at a time when the main cryptocurrency is considered a tool for hedging inflation. The recent rally in Bitcoin prices, during which it approached the $70,000 mark, was associated with growing price pressures in the global economy.
Is Bitcoin really a full-fledged protection against inflation?
It is difficult to give an unambiguous answer to this question. While many market participants and experts claim Bitcoin is a hedge asset, its recent volatility is once again in doubt. Already, the depth of the correction from the all-time high is 10%, which is starting to cause concern.
In an interview with Bloomberg, Carsten Menke, head of next generation research at Bank Julius Baer in Zurich, expressed his opinion on the matter:
"The lack of consistent and negative correlation between bitcoin and stocks clearly suggests that it is not yet a safe haven."
This is evidenced by the fact that during periods of turmoil in the financial markets, Bitcoin, like other riskier assets, tends to suffer.
But do not assume that everything is lost. Not everyone believes that this fact speaks of the unsuitability of BTC as a hedge instrument.
Esme Pau, an analyst at China Tonghai Securities in Hong Kong, takes the opposite view. Pau calls Bitcoin a "smart" way to hedge inflation.
"I urge investors to focus on the long-term trend and do not think short-term changes in correlation should be considered representative," she stressed.
So what will happen to Bitcoin?
A local correction in Bitcoin does not mean a change in the bullish trend. Therefore, in the long term, it is likely to continue to grow. As noted earlier, the main cryptocurrency has about six months more for this.
As for the near future, it is worth focusing on the technical picture. The only question is how much the correction will deepen.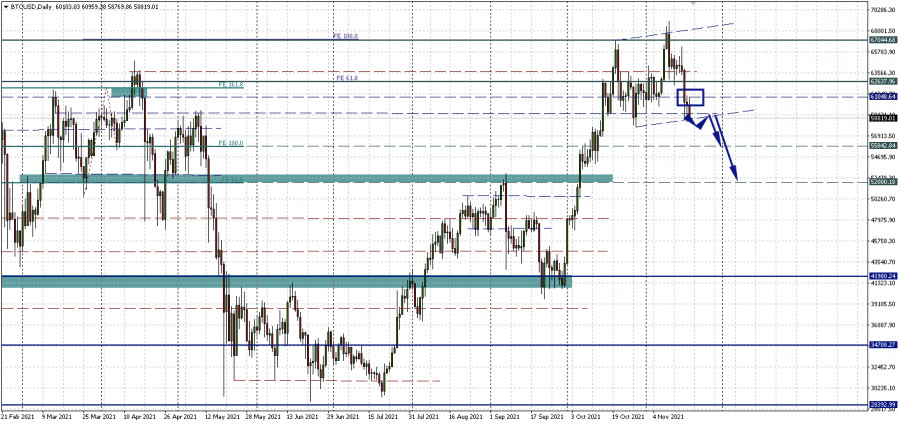 The material has been provided by InstaForex Company -
www.instaforex.com