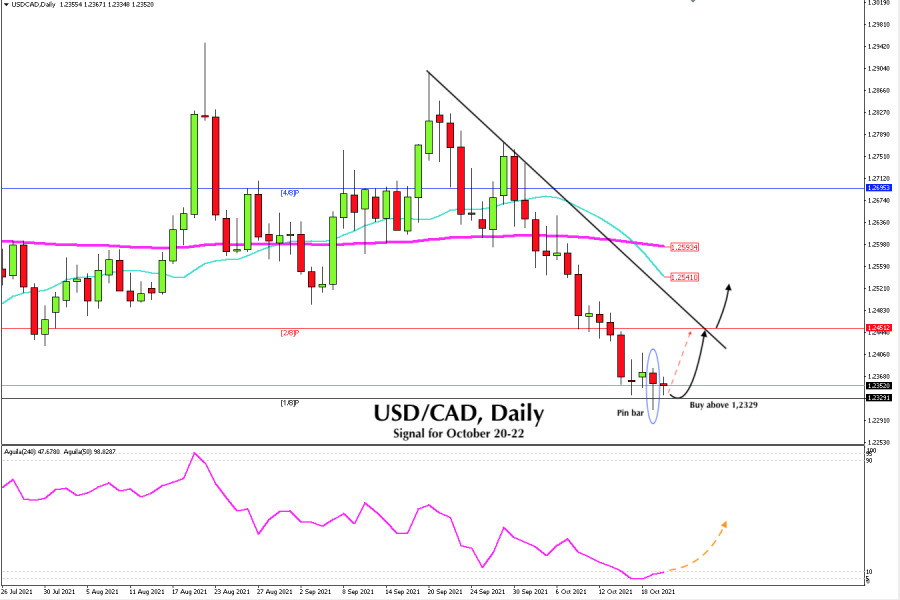 Since October 15, the USD/CAD pair is consolidating above 1/8 of a murray and is oscillating within a range of about 60 pips. Key support is found at 1.2329. As long as it continues to bounce above this level, there is a possibility that the price could rise to the top of the bearish channel at 1.2451.
On the daily chart, the pair has formed a candlestick pattern called a pin bar. This indicates that the supply is running out and the demand would be growing. It is a signal that in the short term, USD/CAD will be able to leave the oversold zone, and there could be a bullish move to the 21 SMA around 1.2541.
The Canadian currency is correlated to the price of crude oil. Each time crude strengthens, the USD/CAD pair falls on the chart, which means that it also appreciates. In view of this, the price of crude oil has approached 84 dollars per barrel in recent weeks and the loonie, in turn, has gained more than 600 pips since September 20.
According to the daily chart, as long as the price remains above 1/8 of murray located at 1.2329, there is 50% probability that the Canadian dollar will have a technical rebound. This will be a good opportunity to buy above this level.
But if it falls and consolidates below the low of 1.23, then it could continue its bearish sequence and drop to the support of 0/8 murray located at 1.2207. A daily close below 1.23 should be the key that confirms this bearish move.
Our forecast will be bullish only if the pair remains above 1.2330. Any bounce towards this zone will be a good opportunity to buy. The eagle indicator supports our strategy. It is expected that in the next few days, CAD will rise to the top of the bearish channel at 1.2551. A sharp break above this level will signal an advance of the bullish force to the 200 EMA located at 1.2593.
Support and Resistance Levels for October 20 - 22, 2021
Resistance (3) 1.2451
Resistance (2) 1.2421
Resistance (1) 1.2388
----------------------------
Support (1) 1.2316
Support (2) 1.2277
Support (3) 1.2244
***********************************************************
A trading tip for USD/CAD for October 20 - 22, 2021
Buy above 1.2329 (1/8) with take profit at 1.2451 and 1,2541 (SMA 21), stop loss below 1.2290.
The material has been provided by InstaForex Company -
www.instaforex.com