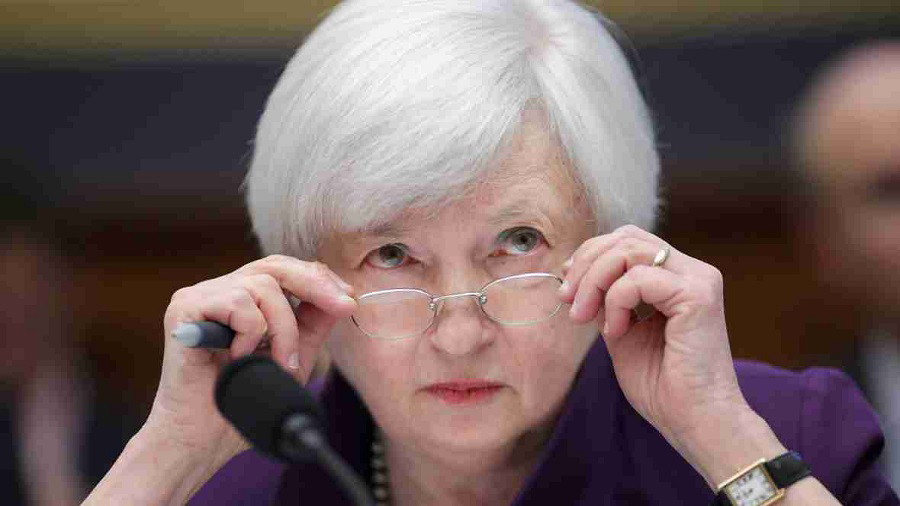 Last week, a whole scattering of speeches by high-ranking officials in the United States took place. In particular, Jerome Powell made several speeches, as well as Treasury Secretary Janet Yellen. Naturally, the markets have been following their speeches very closely, as the US stock market has been experiencing the best times in recent weeks and is being adjusted. However, many experts have long been convinced that a "bubble" has inflated the stock market, which will burst sooner or later. We have also repeatedly said that QE's curtailment in the US might lead to a fall in stock indices, as less money will come from nowhere into the economy. Also, investors can start getting rid of some securities in advance, anticipating a stock market collapse.
Returning to the speeches of Yellen and Powell, it is worth noting that inflation in the United States remains at a high level. However, the Finance Minister and the head of the Fed disagree on the current price growth in America. For example, Janet Yellen said in Congress that she sees some signs of a slowdown in price growth. She also noted that the American economy continues to recover, at the same time very quickly, and she expects that the labor market will reach pre-crisis levels next year. In addition, Yellen once again stated that the refusal of Congress to raise the debt limit could lead to disastrous consequences for the American economy. "We expect that by October 18, the ministry will have minimal resources, which will be quickly exhausted. It is unknown whether we will be able to continue fulfilling all the country's obligations after this date," Janet Yellen said. "It would be a disaster for the American economy, for financial markets, and for millions of families and workers whose financial security would be at risk due to delayed payments," Yellen added.
In turn, Jerome Powell, who also addressed Congress this week, said that inflation is likely to continue to remain high for several more months, but then it will begin to slow down. According to Powell, the price increase caused by supply chain disruptions and other factors was longer than expected. However, the head of the Fed is confident that inflation will return to the target of 2%. Thus, Jerome Powell is most likely right, who is still "in charge" of monetary policy, which means he can influence inflation. In recent months, the acceleration of growth has stopped, but so far, it cannot be said that inflation has begun to decline. If the QE program starts to be curtailed in November, it will mean that inflation will begin to decline, but this will not happen before November. And it is unlikely that the consumer price index will immediately collapse after the first month with a reduced QE.
The material has been provided by InstaForex Company -
www.instaforex.com