EUR/USD
Last Friday, the euro stayed at the target level of 1.1420 for another day, closing the day in a potentially reversal range of 1.1420/65. If the price goes above its upper limit, it will allow the price to grow even higher, to the target level of 1.1560. But with the euro's growth to 1.1560 at the moment, the single currency still has the risk of turning into a medium-and long-term downward movement based on the divergence of the Marlin oscillator. Moreover, this decline can be quite deep, up to 1.0460, to the March 2015 low, since the current growth is a correction for a long decline from February 2018 to March 2020, and the specified goal is 110% of the two-year downward trend branch.
A strong sign of a price reversal from the current levels will be the price moving below the signal level of 1.1349 (June 23 high). If the growth continues (to 1.1560), this signal level will rise higher, to the level of 1.1420.
A consolidation under the MACD indicator line is the first sign of a reversal, below the 1.1370 mark on the four-hour chart. However, this mark is only 20 points away from the signal level on the daily chart.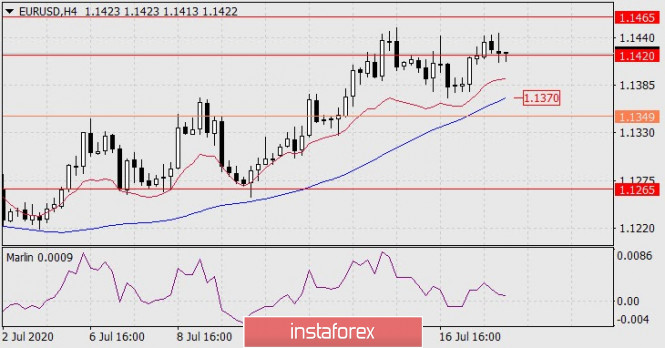 The development range of the Marlin oscillator, in previous reviews highlighted by a gray rectangle, eliminated short-term ones by going into the negative zone and returning to the growth zone. At the moment, the Marlin again rushes into the zone of negative values.
So, in the current situation, it is possible either to increase to 1.1560, or to pull down the price under the signal level of 1.1349 from the current levels, followed by a medium-term fall. We are waiting for developments.
The material has been provided by InstaForex Company -
www.instaforex.com