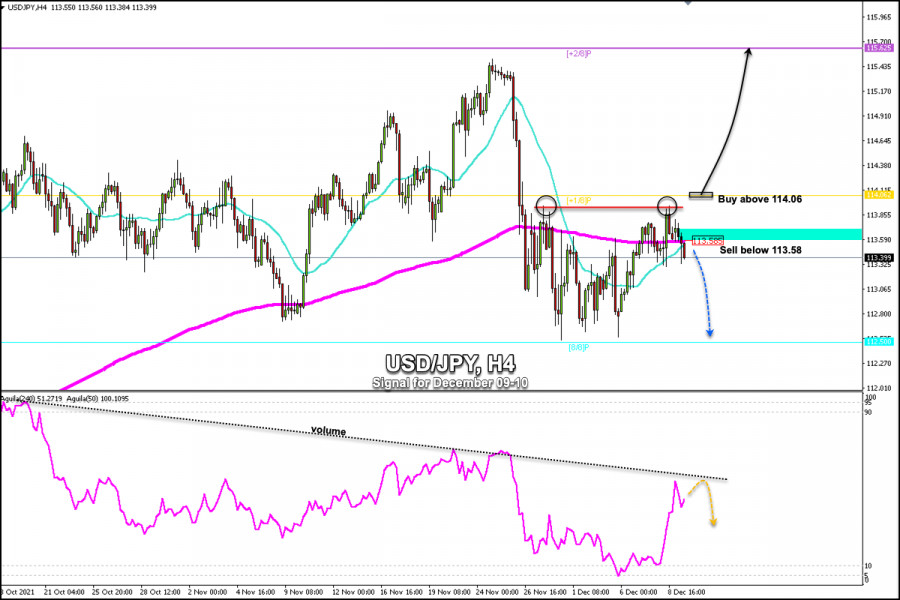 USD / JPY is trading below the 200 EMA and below the 21 SMA, confirming a bearish outlook for the upcoming sessions. Around 114.00, the Japanese yen has formed a double top which means that there is a possibility of a downward movement for the next few days.
The 200 SMA has now turned into a resistance for the Japanese yen. As USD/JPY continues to trade below 113.58, it is expected to continue to strengthen and fall to 8/8 Murray around 112.50.
On the other hand, a consolidation and a sharp break above the +1/8 murray located at 114.06 would mean that the yen has resumed weakness and could go as high as 115.62.
Our forecast for the next few hours for the yen is a consolidation below 113.58 (200 EMA). As long as USD/JPY trades below this zone, we will have an opportunity to sell with the targets at 112.80 and 112.50 (8/8). If the pair rebound off 5/8 of Murray, we could buy with targets at 114.06 (+1/8).
The market sentiment report for today, December 09, shows that there are 62.12% of operators who are selling the USD/JPY pair. This data provided a bullish sign in the medium term. Since the pair is trading below 200 EMA, a correctional movement to the support zone of 8/8 of a Murray is expected first.
The eagle indicator is generating a bullish signal, moving below the trend channel. The Japanese Yen could gain bullish strength in the next few days until reaching the support of 8/8 Murray around 112.50. If it manages to consolidate below 113.58 (200 EMA), then it could gain strength and a trade volume to fall to 112.50.
Support and Resistance Levels for December 09 - 10, 2021
Resistance (3) 114.50
Resistance (2) 114.06
Resistance (1) 113.64
----------------------------
Support (1) 113.28
Support (2) 112.97
Support (3) 112.50
***********************************************************
A trading tip for USD/JPY on December 09 - 10, 2021
Sell below above 113.58 (200 EMA) with take profit at 112.97 and 112.50 (8/8), stop loss above 113.95.
The material has been provided by InstaForex Company -
www.instaforex.com