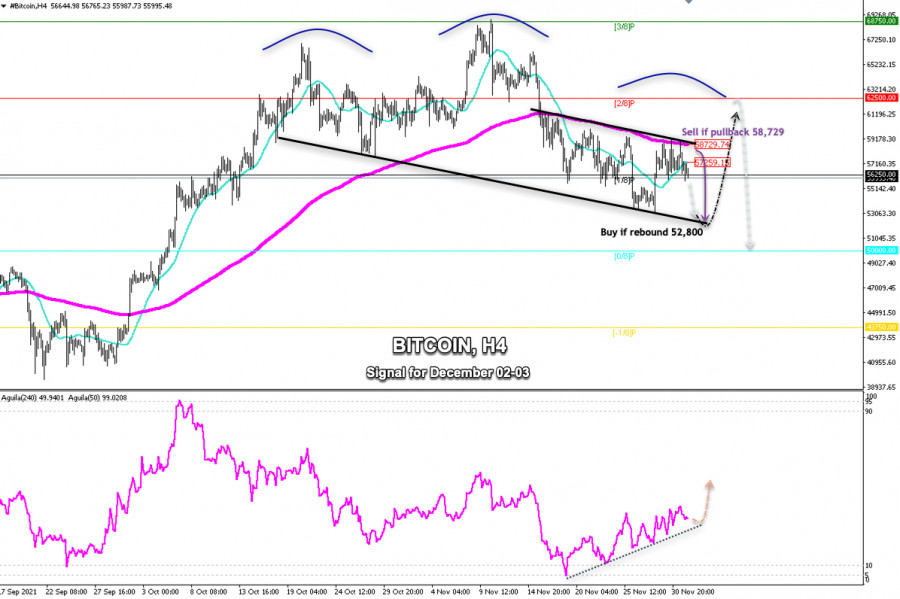 The price of Bitcoin (BTC) is consolidating below the EMA of 200. Since November 16, BTC fell and is now trading below the 200-day moving average. This represents a negative signal that could lead BTC to fall to the psychological level of 50,000.
The sideways movement we see on the 4-hour chart is likely to be a build-up to gain more buyers. Thus, BTC price could climb up to the resistance of 2/8 Murray at 62,500. A confirmation of the break above the 200 EMA (58,729) could accelerate the rally to 2/8 (62,500).
Conversely, as long as the consolidation continues below 58,730, BTC is expected to trade within the downtrend channel and may reach the bottom of the bearish channel around 52,800.
A technical rebound around 52,000 is expected, since the level coincides with the support of the bearish channel and is located around the psychological level of 50,000.
On the other hand, if Bitcoin fails to consolidate above 58,729, it is likely that it will resume its main bearish movement and may fall below the SMA of 21 located and 57,259. The goal in the short term will be the psychological level of 50,000.
Our trading plan is to wait for a pullback through the 200 EMA at 58,729. At this level, it will be a good opportunity to sell with targets at 52,800 and up to the 0/8 of Murray located at 50,000.
Support and Resistance Levels for December 02 - 03 2021
Resistance (3) 61,128
Resistance (2) 60,069
Resistance (1) 58,488
----------------------------
Support (1) 55,848
Support (2) 24,789
Support (3) 53,148
***********************************************************
A trading tip for BTC December 02 - 03, 2021
Sell below 58,729 (200 EMA) with take profit at 52,800 (bottom of bearish channel) and 50,000 (0/8), stop loss above 59,500.
The material has been provided by InstaForex Company -
www.instaforex.com