OPEC+ intends to agree on a plan to further increase production in January. Owing to the news, oil futures fell.
Oil fell due to OPEC+ promises to increase production
Russia proposed a plan to increase production by 400,000 barrels per day, contrary to market expectations. After that prices fell sharply. West Texas Intermediate, for example, was down 4.8% in New York.
As of 9:17 am New York time, WTI futures for January delivery dropped 2.6% to $63.85 a barrel, while Brent crude for February delivery declined by 3.3% to $66.59.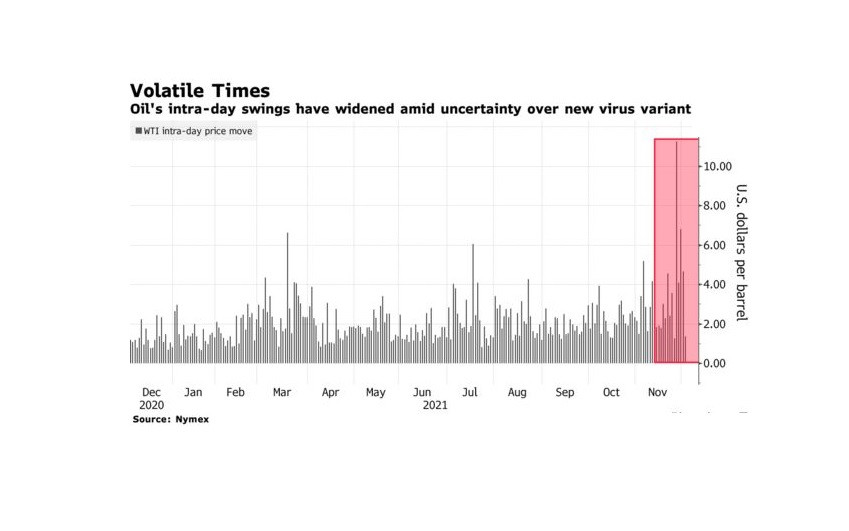 Traders largely expected the Organization of Petroleum Exporting Countries and its allies to postpone moderate production increases due to growing concerns about the Omicron variant. Prices have marked a bearish trend in recent days, and when the group met, Germany had already announced coronavirus restrictions, underscoring the risk to demand.
However, despite the sell-off, Riyadh is now under pressure from the US and other key consumers to stockpile enough to prevent a surge in inflation. Ignoring such considerations could exacerbate the kingdom's already strained relationship with Washington.
Angola's Minister of Mineral Resources and Petroleum Diamantino Azevedo said that the sudden emergence of a new and potentially more dangerous variant was followed by new blockages. He urged OPEC+ to be prudent in order to meet market needs despite the difficulties.
Overall, the oil price has fallen by more than 20% since late October due to a coordinated inventory release led by the White House and more recently due to a new COVID-19 variant. The Fed's increasingly aggressive tone is also affecting the growth prospects of the US economy.
Notably, the first case of the new variant was found in the US. Besides, in South Africa the number of cases has doubled since Tuesday. The main unanswered question yet is whether existing viral drugs will work against omicron.
Nevertheless, there are experts who think the drop in oil is too great. Goldman Sachs Group Inc. said prices had significantly exceeded the impact of the omicron variant. Bank of America Corp. noted it was sticking to its forecast of $85 a barrel in 2022 with a possible jump above $100 if airline prices recovered.
The material has been provided by InstaForex Company -
www.instaforex.com