Bitcoin fulfills the forecast of one of two sideways during Thursday's trading.
The price of BTCUSD has reached the support of the 55,842.84 - 59,283.67 corridor and now a local moment of truth should come: its support will withstand or the consolidation range will expand.
When going down from the sideways 55,842.84 - 59,283.67, the main cryptocurrency may fall to $53,000 - $52,000 per coin, after which it is likely to move to a recovery
The market is still bullish but very uncertain
The support area near $52,000 - $53,000 per bitcoin remains a strong support and a critical "divide" between a bull and a bear market for bitcoin.
The technical consolidation that is taking place now suggests that investors are either sad or not sure about the future. Although, in this case, we are talking more about retail players.
Short-term and long-term BTC holders are mostly in the black
The November price movement brought significant losses to investors, largely equivalent to the March sales.
However, when looking at what happens to the supply level of short-term holders (STH) and long-term holders (LTH), the market actually looks healthier compared to September, when bitcoin fell almost 23% in two weeks.
In the current situation, out of 18% of the supply of short-term holders, almost 50% comes from profit. This is 60% more than in the September sale.
Likewise, LTH's timely sales allowed them to make the most of the record-high price point of $67,500. Consequently, now only 5.8% of their supply is at a loss.
It is also worth noting that this month, the network has lost more than 6% of all active addresses. Investors are trying to sit silently and take their bitcoins from the market. Their confidence, according to experts, will recover if the market shows more bullish sentiment.
Critical Conditions for Bitcoin Bull Dominance
From a technical point of view, everything is more or less clear now: the cryptocurrency should hold above $52,000 - $53,000 per coin. This scenario of sideways consolidation has not lost its relevance for many days, starting on November 18.
The only question is, what does it take to transition to recovery? It is important that a fundamental driver appears on the market that will give confidence to cryptocurrencies and an impetus to the price. So far, there are only concerns about the Omicron coronavirus strain, and that is rather sluggish, although the factor is negative.
It is difficult to predict what could become a catalyst for new growth. But it is clear that the market is waiting for this driver. A reason is needed, as has happened many times during the reversals in July and September. In the meantime, we are waiting for it, the only thing that remains for analysis is technical guidelines.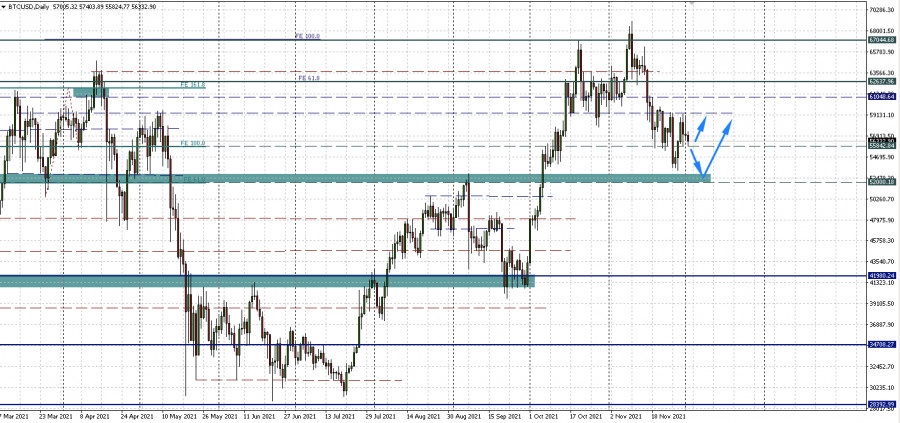 The material has been provided by InstaForex Company -
www.instaforex.com