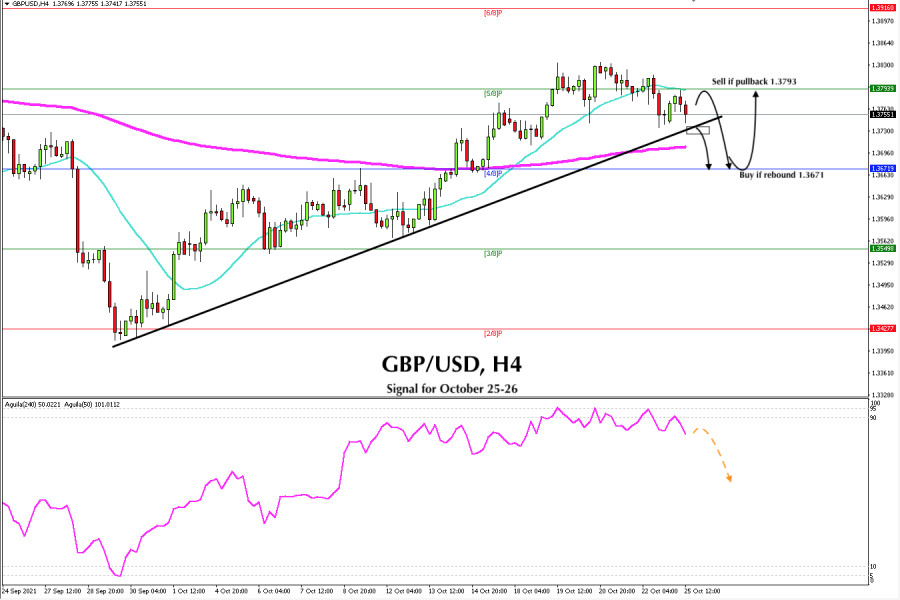 In the early American session, GBP/USD is trading below 5/8 murray after having tested the strength of the 21 SMA in the European session. The currency pair is now making a retracement and is approaching the support level of the EMA of 200.
GBP / USD still maintains its uptrend channel that has been holding since September 29. This channel is intact. A sharp break below this channel and below the 200 EMA (1.3700) could trigger a bearish move and the pound could fall to 1.3549 and to the key support of 2/8 murray around 1.3427.
The US Dollar (#USDX) is strengthening this morning after having found support at the 200 EMA (93.57) and is now above the 4/8 of murray (93.75). It could mean that the British pound could extend its weakness in the next few hours. A break of the bullish channel could confirm this movement.
The 1.3793-1.3832 area has become strong immediate resistance. If the GBP / USD pair makes a pullback towards this high and fails to consolidate above these levels, it will be a good opportunity to sell with a target at the bottom of the bullish channel and up to the 200 EMA located at 1.3705.
According to the 4-hour chart, the short-term outlook for GBP / USD continues to be bullish. The 200-EMA located at 1.37 supports the pair and any technical bounce around this level will be considered an opportunity to buy.
In addition, investors hold firm expectations that the Bank of England will probably be the first central bank to raise interest rates. Such prospects are giving optimism to the British pound and it could continue its upward movement as long as it breaks and consolidates above 1.3830.
On the other hand, the eagle indicator has touched the overbought level on several occasions. It is likely that there will be a technical correction in the coming days towards the 1.3671 level. The 4/8 of a murray could be a good support key. If the pair consolidates in this area, a new bullish wave could occur for the British pound and it could rise to 6/8 of a murray at 1.3916.
Support and Resistance Levels for October 25 - 26, 2021
Resistance (3) 1.3847
Resistance (2) 1.3801
Resistance (1) 1.3768
----------------------------
Support (1) 1.3721
Support (2) 1.3688
Support (3) 1.3671
***********************************************************
A trading tip for GBP/USD for October 25 - 26, 2021
Sell below 1.3793 (SMA 21) with take profit at 1.3721 (bottom bullish channel) and 1.3671 (4/8), and stop loss above 1.3840.
The material has been provided by InstaForex Company -
www.instaforex.com