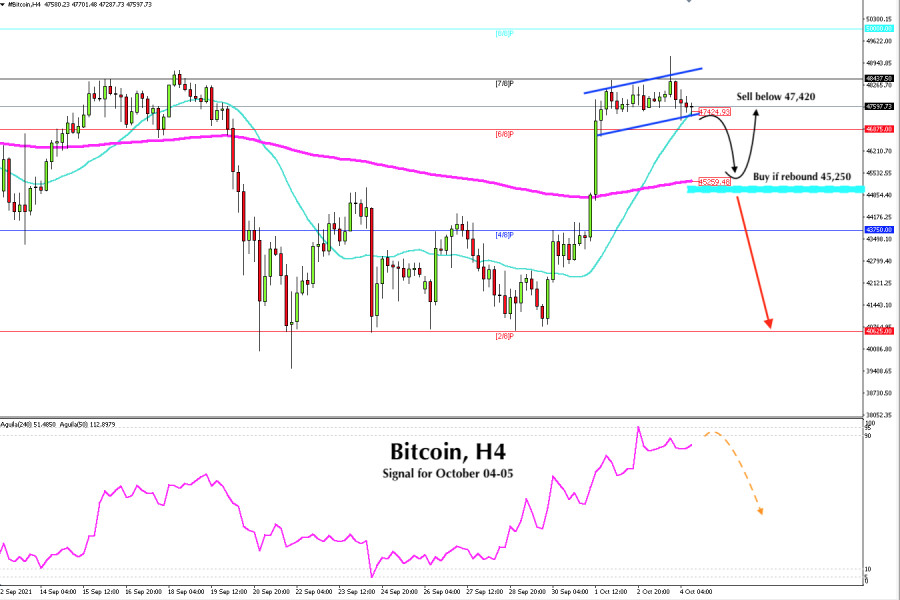 The price of Bitcoin is consolidating above the SMA of 21 located at 47,424. As long as it remains above this level, it is likely to continue the bullish movement and could reach the psychological level of 50,000 in the short term.
After 10 days of consolidation at the psychological level of 40,000 (from September 20 to September 30), we saw an accumulation of a trading volume. You can see that the eagle indicator has reached 5 points. Now the moving average is at the top around 95, which is a sign of overbought conditions and an imminent downward correction.
After the break of this price range, BTC overcame several barriers that have now become its immediate support. Besides, the EMA of 200 is located at 45,259. If the price makes a correction towards this level, it will be a good opportunity to buy with the target up to 48,437 (7/8) and up to the psychological level of 50,000 (8/8).
Only a consolidation below the 200 EMA will confirm the bearish signal of the eagle indicator. Meanwhile, each time BTC makes a correction towards 45,250, it will be an opportunity to continue buying.
Support and Resistance Levels for October 04 - 05, 2021
Resistance (3) 50,000
Resistance (2) 49,178
Resistance (1) 48,319
----------------------------
Support (1) 46,875
Support (2) 46,051
Support (3) 45,312
***********************************************************
Trading tip for BTC for October 04 - 05, 2021
Sell below 47,420 (SMA 21) with take profit at 45,250 (EMA 200), stop loss above 48,435
Buy if it rebounds at 45,250 (EMA 200) with take profit at 47,500 and 50,000 (8/8), stop loss below 44,500.
The material has been provided by InstaForex Company -
www.instaforex.com