The latest COT report (Commitments of Traders). Weekly prospects for GBP/USD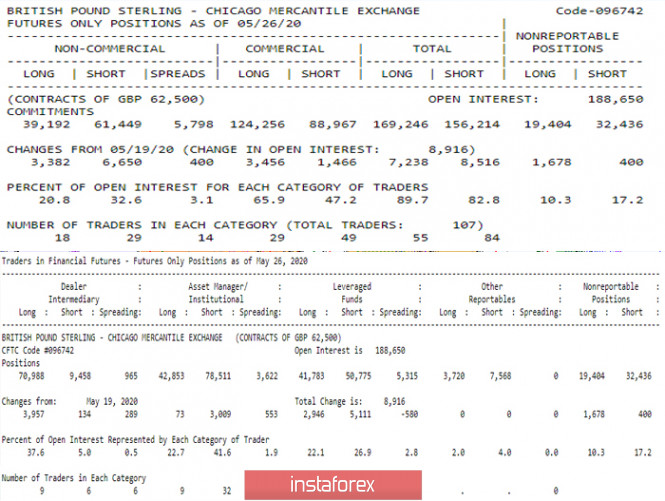 Based on the latest report of the COT (Commitments of Traders), the British pound continues to maintain high open interest (188,650) and quantitative interest among major players (107 against 105). In the total monetary equivalent, the positions long (169,246) and short (156,214) are now approximately equal. The same conclusion can be reached with a more detailed analysis of the statistics of individual groups, although major players (Non-Commercial) retain a certain balance of power on the side of the bearish trend (61.449 against 39.192), while hedgers (Commercials) continue to actively strengthen long positions (3.456 against 1.466 - 124.256 against 88.967). The COT financial report, with more detailed statistics on major players, shows that the number of traders with short contracts significantly exceeds the number of those who keep long contracts.
Main conclusion
The confrontation will continue. At the same time, as before, tactics will most likely dominate among rivals on either side - a step forward and two steps back.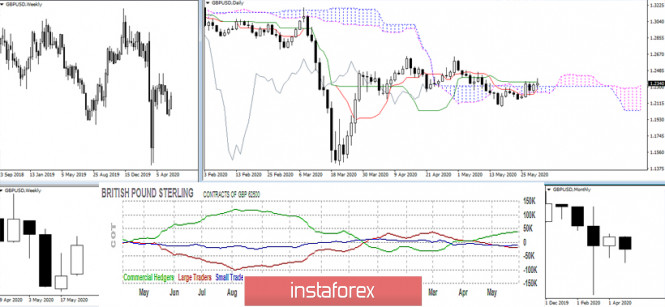 The technical picture shows that although the players to decline managed to keep the pair under the key resistance, indicated earlier in the area of 1.2357 (daily medium-term trend), they did not manage to achieve more and return their activity to the market. Perhaps, the support of big money will do the trick and we will see a recovery and a continuation of the bearish trend, but the greener line of the positions of the Commercials group of traders on the chart of the COT report, which is more abruptly increasing, does not inspire much optimism in the execution of this scenario. On the other hand, bullish prospects are now associated with the liquidation of the daily cross (1.2357 - 1.2425) and the formation of an upward target for the breakdown of the daily Ichimoku cloud. Bearish interests, in turn, will depend on the effectiveness of breaking through important supports 1.2214 (weekly Fibo Kijun + lower border of the daily cloud) - 1.2073 (minimum extreme) - 1.1970 (historical support).
Ichimoku Kinko Hyo (9.26.52), Pivot Points (classic), Moving Average (120)
The material has been provided by InstaForex Company -
www.instaforex.com