GBP/USD
Analysis:
The direction of the short-term trend of the major British currency in the last two months is set by a downward wave. Its last section counts down from April 30. An interim correction is nearing completion. The structure lacks the final part.
Forecast:
Today, a "sideways" is possible between the nearest oncoming zones. In the European session, the upward mood of the movement is expected. By the end of the day, you can expect the completion of the entire rise, the formation of a reversal, and the price move down.
Potential reversal zones
Resistance:
- 1.2280/1.2310
Support:
- 1.2200/1.2170
Recommendations:
Under flat conditions, only short-term intraday transactions are relevant in the pound market. Before the appearance of reversal signals, the priority is the purchase of the instrument. Then you should expand your trading positions.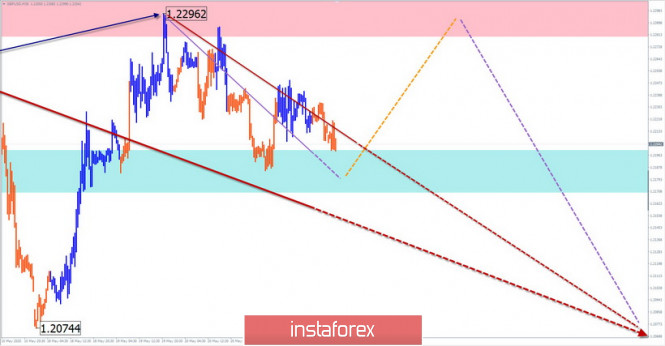 USD/JPY
Analysis:
There has been an upward trend in the Japanese yen chart since the beginning of March. Its last section counts down from May 6. The price has reached a strong resistance level, along which a corrective zigzag is formed. It has entered the final phase.
Forecast:
In the first half of the day today, quotes are expected to decline to the limits of the settlement support. At the end of the day, the probability of forming a reversal and the beginning of the growth of the pair's rate increases.
Potential reversal zones
Resistance:
- 107.70/108.00
Support:
- 107.10/106.80
Recommendations:
When trading against the trend, trading transactions are possible only with intra-session "scalping", with a reduced lot. After the price reaches the support zone, it is recommended to track the instrument purchase signals.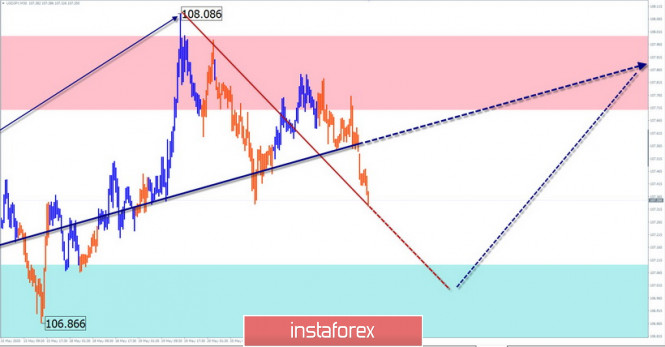 Explanation: In the simplified wave analysis (UVA), waves consist of 3 parts (A-B-C). The last incomplete wave is analyzed. The solid background of arrows shows the formed structure, and the dotted one shows the expected movements.
Note: The wave algorithm does not take into account the duration of the tool movements in time!
The material has been provided by InstaForex Company -
www.instaforex.com