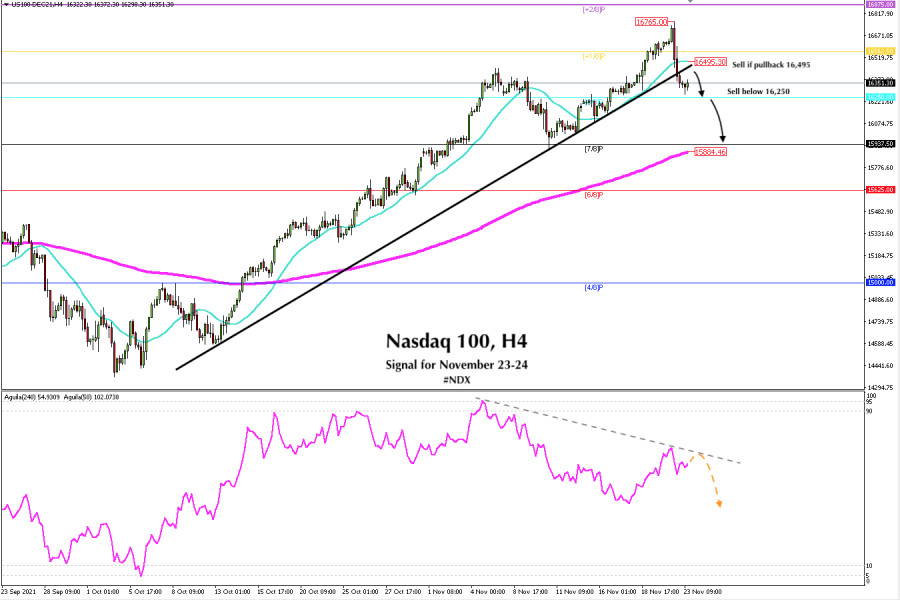 Nasdaq 100 Tech Index (#NDX) is trading below the uptrend channel formed on the 4-hour chart. Since October 13, this channel has given a strong bullish movement. Now the index is showing signs of exhaustion.
Yesterday the Nasdaq 100 managed to break the uptrend channel. It is now trading below this uptrend line and below the 21-moving average. A confirmation pullback is expected to resume the downward movement so that the price could reach the 200 EMA located at 15,884.
On November 24, the minutes of the last FOMC meeting, scheduled for 2:00 p.m. ET, will be released. Investors will keep an eye on the content to determine the next movements or profit taking. The minutes could dent the optimism and the Nasdaq might fall to the psychological level of 15,000.
From the technical point, we see that the Nasdaq 100 is trading below the 21 SMA. This is a negative signal and while it remains below 16,495, the index may continue its correction towards support of 7/8 murray about 15,884 in the next few hours or days.
A daily close below the 200 EMA will be the start of a bearish scenario and we could expect a drop towards the psychological level of 15,000.
On the contrary, if the Nasdaq manages to consolidate above 16,500 (SMA 21), it is likely to resume the uptrend and there could be a bullish movement towards +2/8 of murray located at 16,875.
The short-term outlook continues to be bullish as long as the pair remains above the 200 EMA located at 15,884. Any pullback will be considered a technical correction and it could be a good opportunity to continue buying the Nasdaq in the coming days.
Our trading plan is to sell below 16,495 with targets at 16,250 and up to 15,884 (200 EMA). A consolidation above 21 SMA located at 16,4950 will be a signal to buy the Nasdaq again with targets at 16,850 (+2/8).
Support and Resistance Levels for November 23 - 24, 2021
Resistance (3) 16,562
Resistance (2) 16,508
Resistance (1) 16,427
----------------------------
Support (1) 16,227
Support (2) 16,105
Support (3) 15,937
***********************************************************
A trading tip for Nasdaq 100 for November 23 - 24, 2021
Sell in case of pullback at 16,495 (21 SMA) or sell below 16,250, with take profit at 16,250 (8/8) and 15,937(7/8), stop loss above 16,570.
The material has been provided by InstaForex Company -
www.instaforex.com