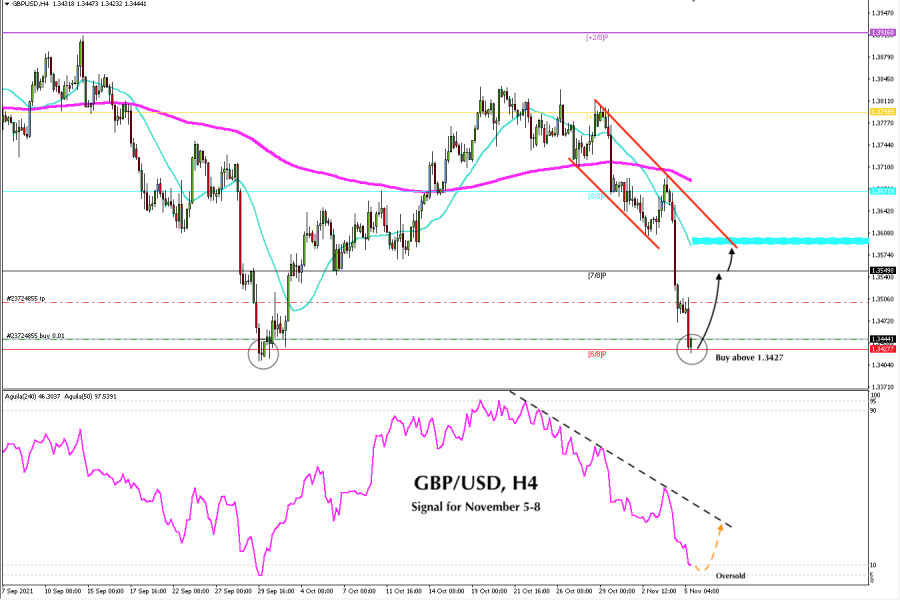 In the European session, the British pound fell to the 6/8 Murray zone around 1.3427 against the US dollar. This is the price level of September 30. GBP/USD is expected to consolidate above this level in the next few hours. The eagle indicator is showing a strong oversold signal and an imminent technical bounce is likely in the coming days.
The zone of 6/8 murray represents strong support. In previous weeks and months, GBP/USD has been able to rebound and find a very strong bottom in order to return to the bullish path again. Therefore, we believe that if the British pound remains above this level of 1.3427, it is likely to rise to the level of 7/8 of murray at 1.3549 and could reach the SMA of 21 around 1.3590.
The eagle indicator has reached the 10-point level. This is a strong oversold area. Therefore, we believe that a good technical rebound could occur and could give us an opportunity to buy at the current price levels. Our take profit can be located at 7/8 of murray and at the SMA of 21.
The strong fall of the British pound this week was caused by the Bank of England (BoE)'s decision to keep the interest rate and QE unchanged. Apart from that, the strength of the US dollar dragged down GBP/USD from 1.3696, a one-week high, to 1.3423. All in all, the currency pair has lost more than 270 pips, making GBP/USD close in the red.
The weekly chart shows that the 200 EMA is located at 1.3388. GBP/USD is likely to remain above this level. The price could always dip or rebound and could reach 1.37 again. The pair might climb to the psychological level of 1.40. On the contrary, a weekly close below 1.3380 would be the beginning of a bearish movement and we could expect a fall to the 1.3000 level, thus showing that it has a long bearish path.
Our trading plan is to buy at current price levels as long as the British pound remains above 1.3427 (6/8), with targets at 1.3500 and 1.3549 (7/8). Contrary to this, if the pound if the pound closes below 6/8 of murray, we should avoid buying and waiting for new support for a technical bounce.
Support and Resistance Levels for November 05 - 08, 2021
Resistance (3) 1.3623
Resistance (2) 1.3549
Resistance (1) 1.3462
----------------------------
Support (1) 1.3427
Support (2) 1.3328
Support (3) 1.3183
***********************************************************
A trading tip for GBP/USD for November 05 - 08, 2021
Buy above 1.3427 (6/8) with take profit at 1.3547 and 1.3590 (SMA 21), stop loss below 1.3390.
The material has been provided by InstaForex Company -
www.instaforex.com