On November 10, EU/USD reached the price levels of July 21, 2020 amid the broad-based strength of the US dollar after the announcement of inflation data. At the moment, the currency pair is rebounding, having printed a low at 1.1453. The pair is approaching 0/8 of murray at 1.1475 which represents strong resistance.
An annual inflation rate in the US reached its 30-year peak in October. This triggered expectations of a possible stronger and faster policy adjustment by the Federal Reserve by the end of November. Thus, the US dollar appreciated on all fronts, putting downward pressure on the Euro. Hence, EUR/USD fell to 2020 levels.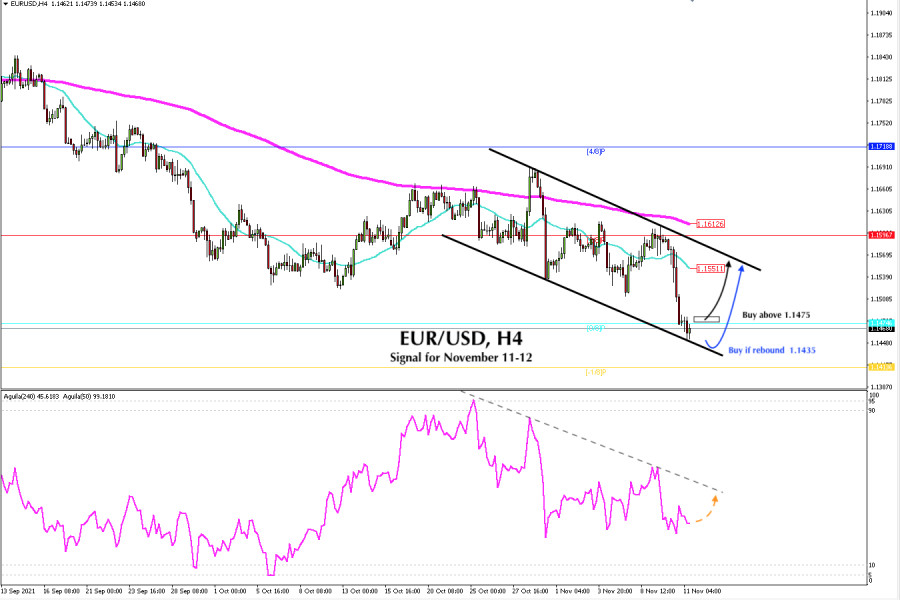 You are recommended to watch the line 0/8 murray in the next few hours. If the euro manages to consolidate above this level, we could expect a technical rebound towards the 21 SMA located at 1.1551 and the pair could reach the top of the bearish channel, around 1.1570.
The downward pressure still prevails. As long as EUR/USD remains below 1.1470, the fall could continue towards the support of 1.1435. At this level, we expect a good technical rebound with targets at 1.1560.
Our trading plan for the next few hours is to wait for a consolidation above 1.1475. Then, it will be a good opportunity to buy with targets at the 21 SMA. If a strong recovery of the Euro occurs, EUR/USD may rise to the EMA 200 located at 1.1612.
The market sentiment report shows that there are 67.15% of traders who are buying EUR / USD. This is a negative signal for the pair, so it could continue its downward movement to the level of 1.1413 where -1/8 of murray is located. But first, we must wait for a correction because the pair is at oversold levels.
Below we leave the support and resistance levels for the next two days.
Support and Resistance Levels for November 11 - 12, 2021
Resistance (3) 1.1596
Resistance (2) 1.1554
Resistance (1) 1.1514
----------------------------
Support (1) 1.1460
Support (2) 1.1433
Support (3) 1.1411
***********************************************************
A trading tip for EUR/USD for November 11 - 12, 2021
Buy above 1.1475 (0/8) with take profit at 1,1514 (1/8) and 1.1554 (EMA 200), stop loss below 1.1430.
The material has been provided by InstaForex Company -
www.instaforex.com