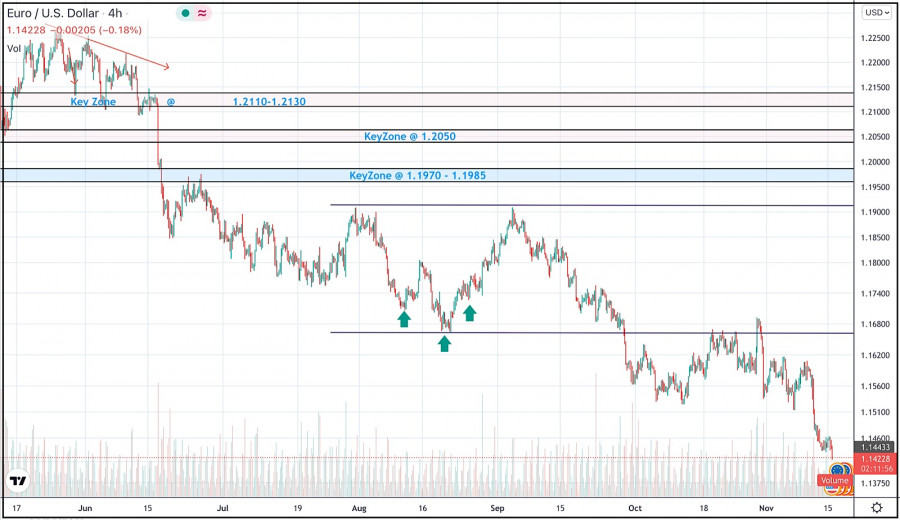 Bearish persistence below the price zone of 1.2050-1.2000 allowed the recent downtrend to be established.
So, the EURUSD pair has expressed significant bearish decline while the price level of 1.1650 stood as a prominent demand level that prevented further bearish decline.
The bullish pressure that originated around 1.1650 failed to push higher than the price level of 1.1900. That's why, another bearish pullback towards 1.1650 was executed.
Bullish signs were expected around the price levels of 1.1650-1.1700 as it corresponded to a recent previous bottom.
However, extensive bearish decline has pushed the EURUSD pair towards 1.1600 and lower levels was about to be reached if sufficient bearish momentum was maintained.
Moreover, significant bullish recovery has originated recently upon testing the price level of 1.1570.
The recent bullish pullback towards 1.1650-1.1680 was expected to offer bearish rejection and a valid SELL Entry.
Significant bearish decline brought the EURUSD pair again towards 1.1550 levels which stood as an Intraday Support zone. Hence, sideway movement was demonstrated until bearish decline occurred towards 1.140.
Please note that any Bullish movement above 1.1680 should be considered as an early exit signal to offset any SELL trades.
The material has been provided by InstaForex Company -
www.instaforex.com