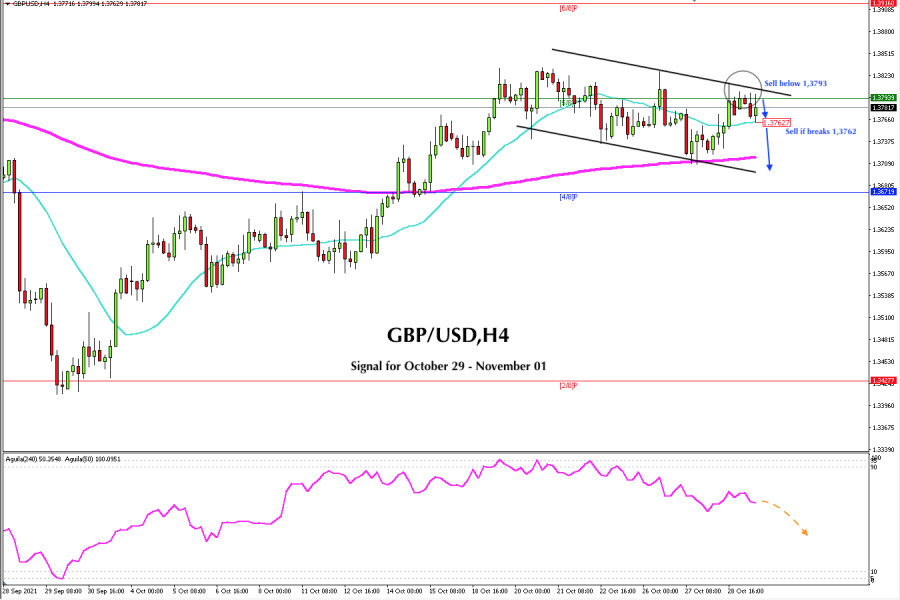 On the American pre-market, the British pound is trading below 5/8 of murray and below the downtrend channel that was formed on October 18. Yesterday GBP/USD could not overcome the barrier of 1.38. The last 4-hour candles show that there were several attempts to consolidate above this level but the pair could not achieve it. At the moment, the currency pair is retracing and trading at 1.3781.
As the British pound has consolidated below the top of the downtrend channel and below 5/8 Murray, a downward movement is likely if it remains below this level. Immediate support stands at the 21 SMA around 1.3762. A breakdown and consolidation below this level could accelerate the decline to the 200 EMA around 1.3710.
As long as it remains above the 200-day moving average, this retracement would be considered a correction and we could look for an opportunity to buy around 1.3690 because at this level 4/8 of a murray is also located and could offer support to the pair. Our target will be at 1.3793. If this level is broken, the price could go up to 1.3916 (6/8).
On the other hand, in the case of a break and consolidation below 1.3771, we should place sell orders because the market would confirm a new bearish scenario. The EMA of 200 and 4/8 of murray are exerting downward pressure, so GBP/USD could easily fall to the low of September 29 of about 1.3427. It is the strong support of 2/8 murray.
Since October 18, the oscillator of the eagle indicator has entered an overbought zone and the signal continues to give a bearish movement. The eagle indicator will also support our strategy of selling below 5/8 of murray with targets at 1.3709 and 1.3671 (4/8).
The market sentiment report for Friday shows that there are 43.53% of traders who are buying GBP / USD. This is a positive sign for the pair. It seems that that after this period of correction there will be an opportunity to buy around of 1.3671 and could go up to 1.3916.
Our trading plan is to sell at the current price levels around 1.3781. Otherwise, if a pullback occurs towards the top of the bearish channel, it would be a good idea to sell if it fails to break, with targets at 1.3762 and up to 1.3700. The eagle indicator supports our bearish strategy.
Support and Resistance Levels for October 29 - November 01, 2021
Resistance (3) 1.3890
Resistance (2) 1.3861
Resistance (1) 1.3816
----------------------------
Support (1) 1.3765
Support (2) 1.3724
Support (3) 1.3697
***********************************************************
A trading tip for GBP/USD for October 29 - November 01, 2021
Sell below 1.3793 (5/8) with take profit at 1.3762 (SMA 21) and 1.3709 (EMA 200), stop loss above 1.3825.
The material has been provided by InstaForex Company -
www.instaforex.com