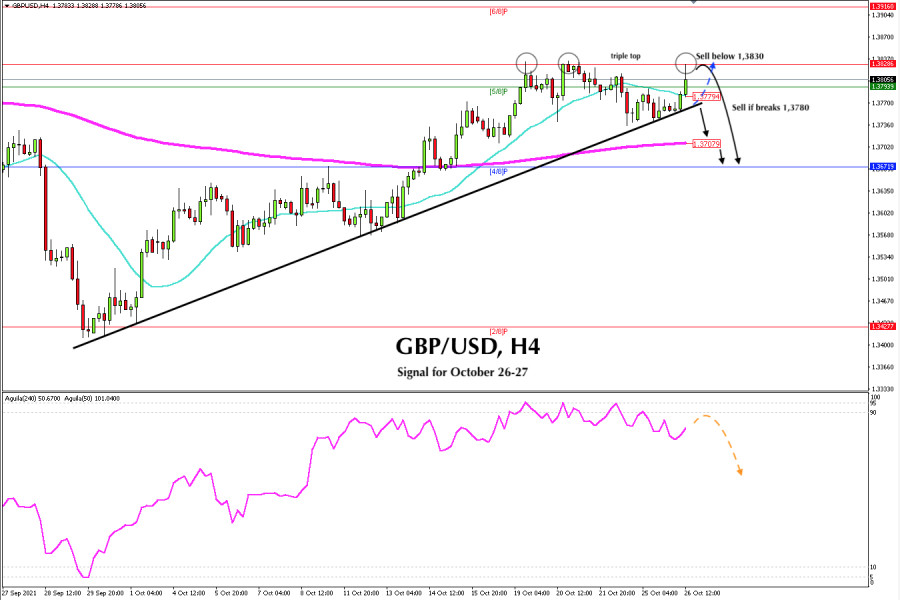 In the European session, GBP/USD has come to test the strong resistance of 1.3828. As the pair has not been able to break it, it is now making a retracement. GBP/USD is likely to find support and make a technical bounce at the SMA of 21 around 1.3780.
We can see in the 4-hours chart that the British pound is located within an uptrend channel. Yesterday it was bouncing above this channel and has gained momentum since, but it has not been enough to beat the level. of 1.3830. Therefore, a sharp break below this channel will be the start of the bearish scenario and the price could fall to 4/8 around 1.3671.
Only a sharp breakout and a consolidation above 1.3830 could mean there is upside potential and GBP/USD could rally to resistance of 1.3916 where there is 6/8 of murray. As long as the pair remains above the SMA of 21 around 1.3779, there is a possibility of this scenario.
On the other hand, the US dollar index #USDX is showing some strength as it is consolidating above the 200 EMA around 93.75 which prevents the British pound from gaining more momentum and can overcome the barrier of 1.3830. If the pound continues its technical correction and consolidates below 1.3779, there is a likelihood that there could be a drop to the 200 EMA and to 4/8 at 1.3671.
Our forecast is bearish as we can see a triple top at the 1.3828 level. In addition to this, the eagle indicator is showing overbought signals. So, a correction is likely to happen in the coming days towards the pivot support of 1.3671 (4/8). At this level, the pound could be relieved of the upward pressure and there could be a good opportunity to buy.
The market sentiment report shows 52.94% of traders who are selling the GBP / USD pair. This means that after making a technical correction, the pound could continue with an upward movement in the coming days and may reach the level of 1.3916.
Support and Resistance Levels for October 26 - 27, 2021
Resistance (3) 1.3890
Resistance (2) 1.3829
Resistance (1) 1.3822
----------------------------
Support (1) 1.3765
Support (2) 1.3739
Support (3) 1.3697
***********************************************************
A trading tip for GBP/USD for October 26 - 27, 2021
Sell below 1.3830 (triple top) with take profit at 1.3779 (SMA 21) and 1.3707 (EMA 200) as well as stop loss above 1.3865.
The material has been provided by InstaForex Company -
www.instaforex.com