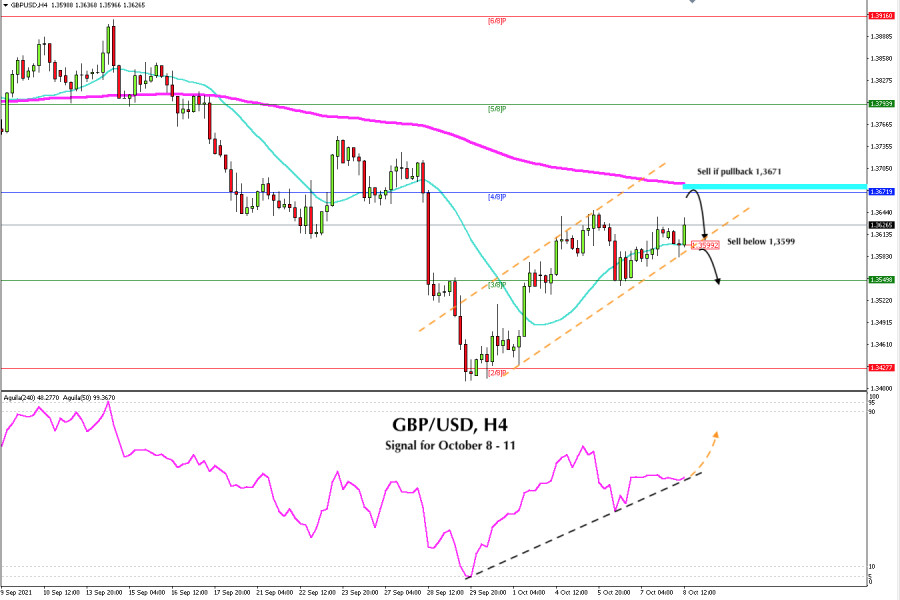 The GBPUSD pair is trading within an uptrend channel, supported by the 21 SMA and the 3/8 murray which represents strong support located at 1.3599 and 1.3549. The bullish force is likely to continue until it encounters resistance at the 4/8 murray located at 1.3671, which also coincides with the 200 EMA, becoming a strong barrier for the British pound.
At 1.3599 (21 SMA) the lower line of the bullish channel converges. As long as the British pound remains above this area, it will be a good opportunity to buy. Any bounce around this area could give momentum to reach 1.3671 zone of the 200 EMA.
Conversely, if GBP / USD breaks below the uptrend channel formed in the 4-hour chart and consolidates below the 21 SMA, there could be a change of market sentiment. So, a bearish movement could occur to the support of 1.3549.
The oscillator of the eagle indicator is being guided by an uptrend channel, which could be a sign of persistent bullish force, albeit limited to the resistance of 1.3671. If it rises to this price level, the market will turn overbought and a technical correction may occur.
For now in the short term, the strategy is to buy at the current price levels with targets at 1.3671. If the pair tests the top of the resistance of the 200 EMA and 4/8 of murray and fails to break it and consolidate, then it will be a good opportunity to sell with targets within the bullish channel around 1.3599.
Support and Resistance Levels for October 08 - 11, 2021
Resistance (3) 1.3709
Resistance (2) 1.3671
Resistance (1) 1.3645
----------------------------
Support (1) 1.3577
Support (2) 1.3549
Support (3) 1.3509
***********************************************************
Trading tip for GBP/USD for October 08 - 11, 2021
Sell if pullback 1.3671 with take profit at 1.3599 (SMA 21), stop loss above 1.3709.
The material has been provided by InstaForex Company -
www.instaforex.com