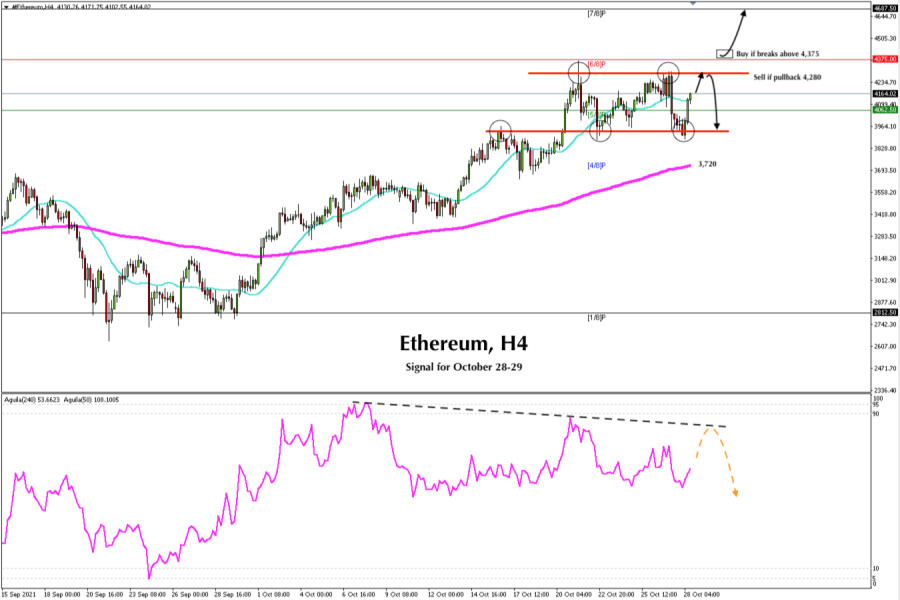 Ethereum (ETH) is trading within a price range between 4,300 and 3,900. We hope that in the next few hours ETH will continue to oscillate within these levels and could find strong resistance around 4,280. If it fails to break it, there will be a good point to sell as long as it trades below 4,300 and below 6/8 of a murray.
As long as it remains above the 3,900 support and above the 200 EMA located at 3,720, Ethereum price is likely to hit new all-time highs. For this, we must expect a daily close above 6/8 of murray (4,375). Thus, the price could rise towards its next target at 4,687 where there is 7/8 of murray and that represents a reversal zone.
Conversely, if Ethereum consolidates below the range zone around 3,900, it may fall to the support of the 200 EMA located at 3,720. If this support is broken, ETH could weaken and wait for a drop to the psychological level of 3,000 if the bearish pressure prevails to 1/8 of a murray around the prices of September 26.
A decisive daily close above 4,375 (6/8) will confirm that the uptrend is still valid and will give Ether a push towards 4,687 (7/8). The eagle indicator is showing a bullish signal for the next few hours. We must wait for a sharp break from the top of the range to be able to buy. Otherwise, it will be a selling opportunity.
Our trading plan is to buy within the range around 3,900 and sell below the top around 4,280. We expect this price swing movement to continue until next week. On the other hand, a sharp break below above these levels could determine the next trend for Ether.
Support and Resistance Levels for October 28 - 29, 2021
Resistance (3) 4,375
Resistance (2) 4,207
Resistance (1) 4,062
----------------------------
Support (1) 3,900
Support (2) 3,750
Support (3) 3,466
***********************************************************
A trading tip for Ethereum for October 28 - 29, 2021
Sell if pullback 4,280 (Top of range) with take profit at 4,062 (5/8) and 3,900, stop loss above 4,375.
The material has been provided by InstaForex Company -
www.instaforex.com