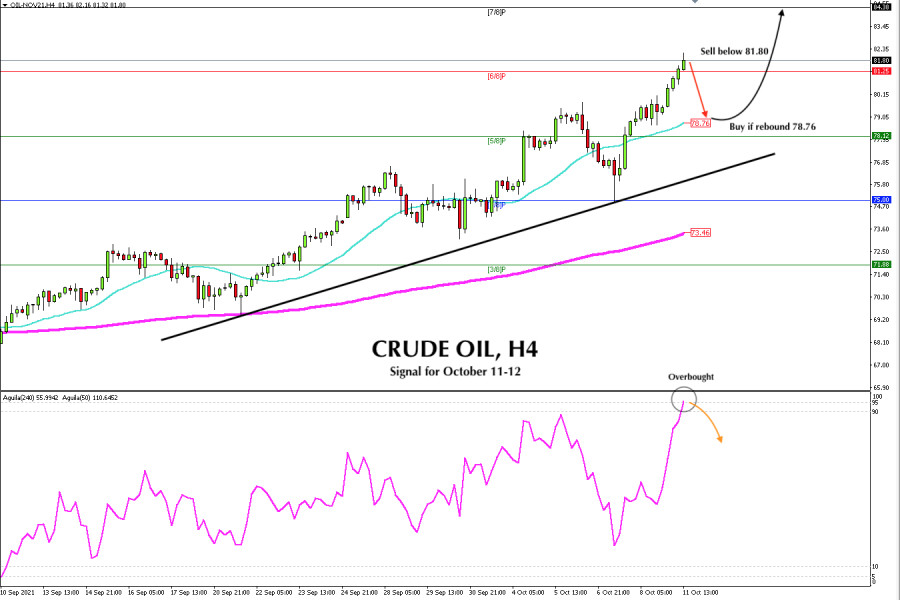 The price of Crude OIL, (#CL) before the opening of the American session was trading at 81.80 after reaching the 7-year highs. It could face an imminent downward correction since the eagle indicator reached the extreme overbought level at 95. There could be a sell opportunity in the next few hours.
At a fundamental level, the demand for Crude Oil and Brent increased very strongly in recent weeks. In some countries, gas stations have run out of fuel and the population is queuing. On the other hand, in India, they are experiencing power cuts due to a shortage of coal, while in China, the government has ordered miners to increase coal production.
The demand for coal and gas continues to increase as economies recover. This is a factor that is driving the price of oil. It makes it more attractive as fuel for power generation.
On a technical level, crude has surpassed the +2/8 murray level at 81.25 that we noted in our analysis last week. It is now located above this, as there was a breakout and consolidation. Now it became 6/8 of a murray that represents a strong support. A downward correction below this level could put pressure on crude oil and it could fall to the level of 78.76, where the SMA of 21 is located.
The oscillator reached the level of 95, which represents an imminent downward correction. Given that an overbought signal is observed, a fall in the current price levels around 81.80 is likely to happen.
The SMA of 21 (78.76) acts as a dynamic support for oil. A technical bounce near this level could be a good opportunity to buy with targets at 81.25 and up to 7/8 of a murray located at 84.38.
The short-term outlook for crude oil remains bullish as long as it remains above 73.46. So any correction towards the daily or weekly support zones will be an opportunity to continue buying. It is expected that until the end of the year, crude oil will trade at a high price, as the global energy crisis will continue to escalate amid a difficult northern winter.
Our key for now is to sell below 81.80, take profit is at 81.25. A break at this level will give us the opportunity to continue selling until we reach the target of 78.76 around the SMA of 21. Then, after a bounce at this level, it will be time to buy with targets at 81.25 and 84.38. The eagle indicator is showing a sign of imminent correction.
Support and Resistance Levels for October 11 - 12, 2021
Resistance (3) 84,38
Resistance (2) 83,34
Resistance (1) 81,69
----------------------------
Support (1) 80,89
Support (2) 80,21
Support (3) 78,73
***********************************************************
Trading tip for CRUDE OIL for October 11 - 12, 2021
Sell below 81,80 with take profit at 81,25 (6/8) and 78,76 (SMA 21), stop loss is above 82,40.
Buy in case of a rebound at 78,76 (SMA 21) with take profit at 81,25 (6/8) and 84,38 (7/8), stop loss is below 78,20.
The material has been provided by InstaForex Company -
www.instaforex.com