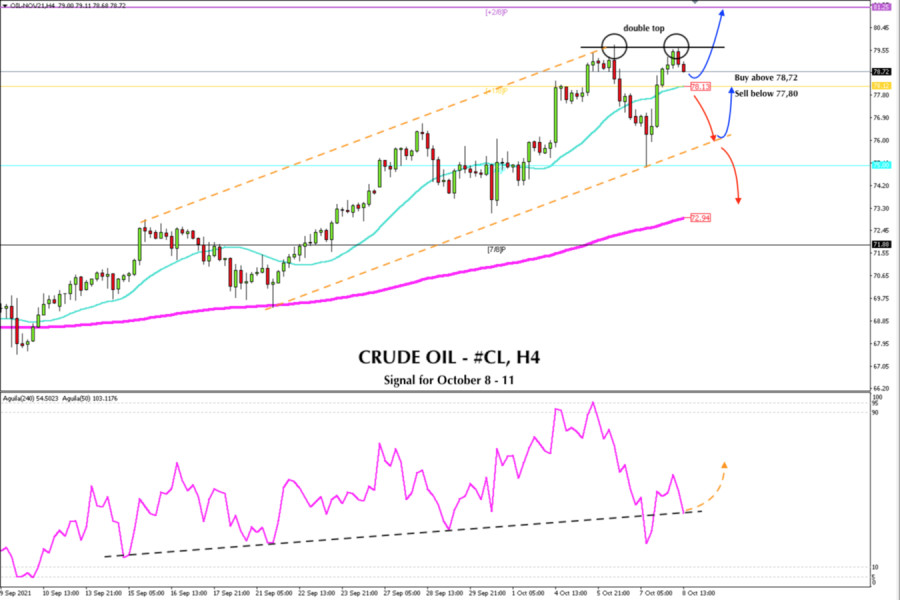 In the European session, Crude Oil reached its high of October 6 at 79.64, close to the historical peak at 79.76. After a brief pause these days, it was trading around the 8/8 murray support at 75.00. From this level, it has rebounded very strongly in about 28 hours accumulating more than 460 pips of profit that represents almost 6% this week.
In the 4-hour chart, we can see the formation of a double top. This technical pattern could give a signal of a downward correction in the next few days, and the price could reach the level of the 200 EMA located at 72.94.
The 21 SMA located at 78.13 has now become a key support for crude. As long as WTI is trading above 78.12, the bullish force will continue to prevail, and it could continue its rally to the level of + 2/8 of murray located at 81.25.
On the contrary, if in the next few hours crude consolidates below +1/8 murray around 77.80, then it will be a good bearish sign and crude can fall to the psychological level of 75.00. If the bearish force beats this level, then it can test the final support of 72.94, zone of the 200 EMA.
Crude oil remains within an uptrend channel. Any technical correction towards the support of the bullish channel will be a good opportunity to buy. The point where there may be a rebound is located at 76.00 level that coincides with the bottom of the channel.
On the other hand, if crude breaks the bullish channel formed in the 4-hour chart, the medium-term outlook could change to the downside. For this, crude must consolidate below the 73.00 level of the 200 EMA. So, we must wait and see what happens. Fundamental data or the intervention of the United States to stop the rise in the price of Crude Oil could be the catalyst and WTI could fall to 68.65.
Meanwhile, below 79.76 it will be a good opportunity to sell, with targets at 78.12. If a technical rebound occurs at this level, we can continue buying. The eagle indicator is showing a bearish signal, but supported by a channel that maintains the bullish outlook.
Support and Resistance Levels for October 08 - 11, 2021
Resistance (3) 81.25
Resistance (2) 80.72
Resistance (1) 80.15
----------------------------
Support (1) 78.69
Support (2) 78.12
Support (3) 77.55
***********************************************************
Trading tip for CRUDE OIL for October 08 - 11, 2021
Buy if rebound at 78,12 (SMA 21) or above 78,72, with take profit at 81,25 (+2/8), stop loss below 77,50.
Sell below 77,80, with take profit at 76,00 and 72,94 (EMA 200), stop loss above 78,40.
The material has been provided by InstaForex Company -
www.instaforex.com