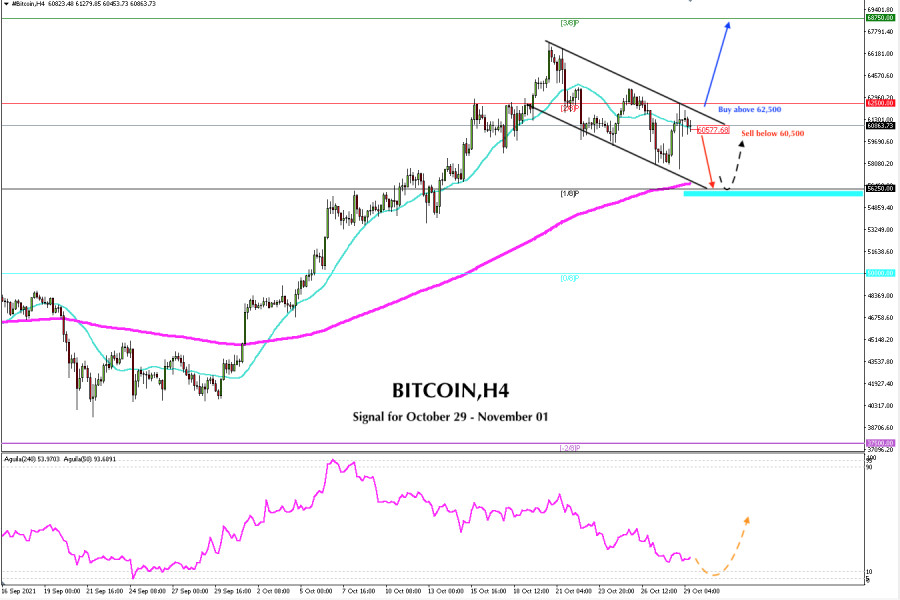 The overall trend of Bitcoin in daily charts is still bullish. However, since October 20 after reaching its historical maximum, a secondary downtrend channel has been formed. Since then, BTC is going through a downward correction. Now it is located below the 21 SMA and it is likely to continue oscillating within this bearish channel.
BTC is also consolidating below 2/8 murray and this level is very strong resistance because on previous occasions it has prevented Bitcoin from a further rise. Given that it is now below this zone, we should expect it to continue to decline up to the 200 EMA around 56,250.
The price of BTC should exceed the level of $ 62,550 where 2/8 of murray is located. BTC is expected to break the bearish channel. With a consolidation above this level, BTC could gain momentum again and the price could rise to 3/8 of murray around 68,750. While it is trading below this level, there is a probability that BTC will continue its fall to the key support of 56,250 (200 EMA).
As long as Bitcoin remains above the 200 EMA in 4-hour charts and 56,250 (1/8 of a murray), any bounce towards this level will be a good opportunity to continue buying with the nearest targets at 62,500 and up at 68,750.
On the contrary, a breakout and daily close below the 200 EMA and below 1/8 of a murray could be the start of a bearish scenario and we could expect a drop to the psychological level of 50,000 (0/8).
The eagle indicator is approaching an oversold level. It is likely that in the next few days it will touch the level of 10 or 5 points. Then it could be a signal to buy Bitcoin again, our forecast is to wait for the level of 56,250. This would be a good point to buy cheaply.
Support and Resistance Levels for October 29 - November 01, 2021
Resistance (3) 35,235
Resistance (2) 63,270
Resistance (1) 62,500
----------------------------
Support (1) 58,516
Support (2) 57,851
Support (3) 56,250
***********************************************************
A trading tip for BITCOIN for October 29 - November 01, 2021
Sell below 60,500 (SMA 21) with take profit at 56,250 (EMA 200), stop loss above 62,500.
The material has been provided by InstaForex Company -
www.instaforex.com