The GBP/USD pair in 4-hour charts opened with a bearish GAP of 130 pips. At the moment of writing this article at the opening of the Asian session, it is trading below 6/8 of murray and below from the 1.3440 support, which has now become its resistance. The bias is bearish due to the eagle indicator, up to the 1.3305 support at the 5/8 level and the 200 EMA.
On Friday last week, the pair closed with a strong uptrend, but at the opening of this week, the markets are taking profits, and prices are accelerating downwards, although this correction will also be good for a new bullish wave, which it could surpass its highs from last week.
In the 4-hour chart, you can see that GBP/USD has left 2 gaps that have not yet been covered. As it is now trading below the 6/8 of Murray, it is likely to close the gap it left at 1.32, we would expect to close this gap if only breaks the EMA 200 which is located at 1.3305.
If the GBP/USD pair fails to break the 200 EMA, it could be a good opportunity at 1.3305 to buy with targets up to 1.3420 and 1.3549. A break of this level could cover the GAP of 1.32 and a bounce in the uptrend channel of 4 hours, as an opportunity to buy in that zone.
On the contrary, a consolidation above the strong resistance of 1.3440, if the pair trades above this level we can buy with targets at 1.3550, for the closing of the GAP. If the Brexit issue takes a final step, the euphoria optimistic could take it to 8/8 murray at 1.3671.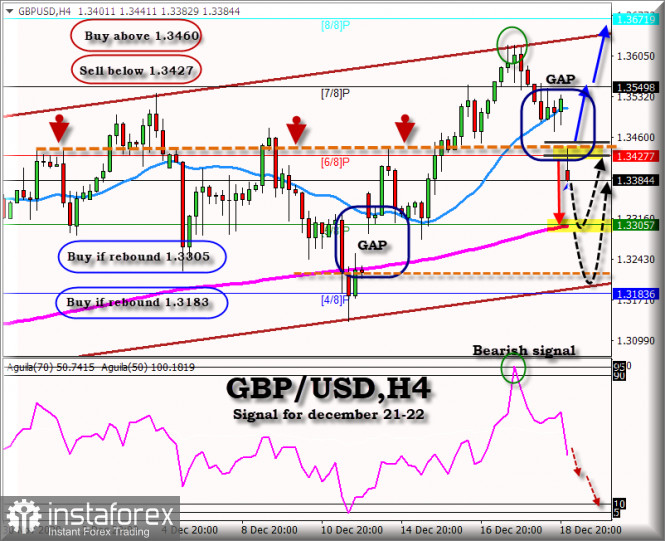 Trading tip for GBP/USD for December 21 – 22
Buy above 1.3460 (strong resistance) with take profit at 1.3549 and 1.3670, stop below 1.3410.
Sell below 1.3427 (6/8 murray), with take profit at 1.3305 (5/8 and EMA 200) and 1.3180 (trend line), stop loss above 1.3460.
Sell if the pair break EMA 200 at 1.3305, with take profit at 1.3250 and 1.3180 (4/8), stop loss above 1.3340.
Buy if rebound at 1.3200, with take profit 1.3305 and 1.3427, stop loss below 1.3170.
The material has been provided by InstaForex Company -
www.instaforex.com