The GBP/USD pair opened this week with a Gap of 142 pips due to the expectation about Brexit, the market is optimistic waiting for an agreement that is favorable for Great Britain. Besides, we must remember that the time is getting shorter, with 17 days left to finalize the Brexit negotiations, it is more likely that market volatility will increase on any news.
In the 4-hour chart, we note that the GBP/USD pair is trading within a downtrend channel. At the time of writing this article, the price is falling about 64 pips on the way to the 200-day EMA. This level could give it a new bounce bullish to the pair. If this level breaks we can find a support at the bottom of the bearish channel.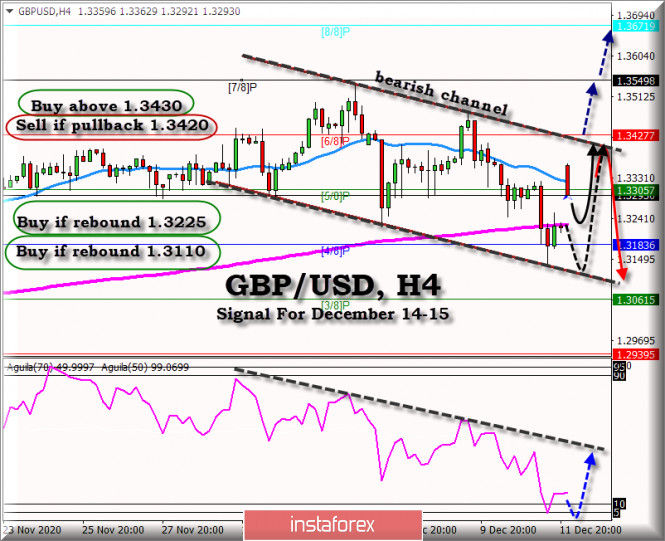 The British pound, since its maximum recorded on December 4, has been making lower highs and lower lows, which is a reversal pattern or a possible change in trend, for this we must wait for the British currency to trade for below the 200 day EMA for a mid-term trend reversal.
We wait for today Monday December 14, in the American session to trade within the 4-hour bearish channel, for this, our recommendation is to buy above of 1.3230 and sell below of 1.34, this will be the price range, until a news is published encouraging about Brexit.
The eagle indicator is trading below a downtrend channel, on Friday of last week it touched its low of the range of 5 and then there was a rebound above this level, and now it is giving a bullish signal, we expect that remains above this channel which could support our bullish strategy for today.
Now, the market sentiment in this Asian session is showing 55% of investors who are selling this pair, which could be a sign that in the medium term, we could see a decline in the pair to 1.3060 levels.
Trading tip for GBP/USD for December 14 – 15
Buy above 1.3430 (bearish channel), with take profit at 1.3549 and 1.3671, stop loss below 1.3390.
Buy if the pair rebound around 1.3225 (EMA 200), with take profit at 1.3420, stop loss below 1.3180. (4/8 of murray)
Buy if the pair rebound around 1.3110 (Bottom bearish channel), with take profit at 1.3220 and 1.3305 (5/8 of murray) , stop loss below 1.3075.
The material has been provided by InstaForex Company -
www.instaforex.com