The GBP / USD pair continues to trade with an upward trend, bouncing within the uptrend channel on 4-hour charts, around 1.3270 and 1.34. The pair is still struggling not to lose its uptrend channel.
Last Wednesday's meeting in Brussels, EU and UK officials have agreed that a firm decision on the future of the negotiations must be taken before Sunday this week (so this is the new deadline). However, analysts expect that there will be no deal and this could weaken the British pound and push until the next support of the bullish channel on the daily chart.
If the talks between the UK and the EU about their future trade relationship fail, it is likely that the GBP/USD pair will fall to the support zone of the uptrend channel. If this scenario comes true, a break of the channel of 4 hours (around 1.3250) may occur and approach the support of the daily bullish channel (1.3060) as you can see on the chart.
Contrary to this, we would expect the British pound to trade above the 200-day EMA, above 1.3330, above this level we expect the pair to break the first resistance of 1.3476 and as a final target until 1.3623. top of the uptrend channel in 4 hours.
Our recommendation is to sell if the GBP /USD pair breaks sharply the uptrend channel (you can see the chart) below 1.3260 with a final target at 1.3060, and buy only if it is trading above 1.3330 with targets at 1.3623.
Market sentiment for today December 11 shows that there are 54% of investors who are selling this pair, if this data continues to decrease as we have observed compared to last week, it is most likely that the pair could fall to the area 1.3060 for the next few days.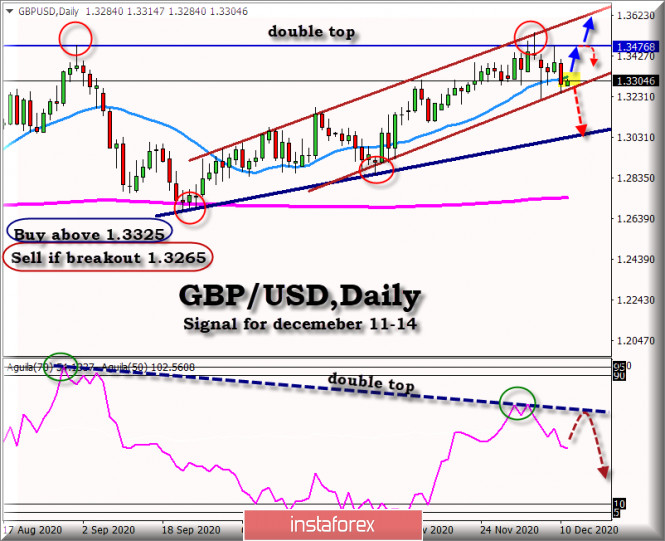 Trading tip for GBP/USD for December 11 – 14
Buy above 1.3330 (EMA 21), with take profit at 1.3427, 1.3476 (double top), and 1.3623 (trend channel) stop loss below 1.3290.
Sell if the pair breakout below 1.3265 (trend channel 4 hours), with take profit at 1.3180 and 1.3060 (trend channel daily), stop loss above 1.3310.
The material has been provided by InstaForex Company -
www.instaforex.com