Crypto Industry News:
The hacker, who stole $ 8.3 million from the private wallet of Nexus Mutual CEO Hugh Karpa, sent a ransom note of $ 2.66 million on Ethereum.
In the published announcement, the hacker addresses Karp directly and seems to suggest that he will stop selling the stolen NXM until the price goes up or Karp sends 4,500 ETH.
It is unclear whether the hacker offered to return the remainder of the stolen NXM in the latter scenario, although that would likely be a precondition for Karp if he decided to send the ransom.
Any negotiation should be routed via the attacker's Ethereum address, and the message ends with a list of three wallet addresses that are allegedly owned by Karp, along with an assertion that he is "rich". The hacker managed to install an infected version of Metamask, which prompted Karp to sign a deal that transferred all of his NXM 370,000 to the attacker's wallet.
In an online tweet, Karp praised the attacker with the words "next level stuff", noting that it would be difficult to withdraw so much NXM and then offered a reward of $ 300,000 if the tokens were returned in full. However, the undaunted hacker has reportedly washed up to $ 2.7 million of the stolen NXM, and is now demanding a similar amount so as not to sell the rest.
Technical Market Outlook:
The ETH/USD pair has broken above the technical resistance seen at the level of $635.46 and made a new swing high at the level of $648.78 (at the time of writing the article). The momentum has increased as well and is strong and positive, so the bulls might attack the level of $700 again soon. The next technical resistance is seen at the level of $652.52 and the technical support is located at $635.46 and $620.52.
Weekly Pivot Points:
WR3 - $699.05
WR2 - $651.58
WR1 - $626.59
Weekly Pivot - $578.29
WS1 - $553.79
WS2 - $505.49
WS3 - $481.34
Trading Recommendations:
The up trend on the Ethereum continues and the next long term target for ETH/USD is seen at the level of $700, so any correction or local pull-back should be used to open the buy orders. Nevertheless, the momentum has decreased recently on the lower time frames and volatility is not that great either. The bulls has hit the 38% Fibonacci retracement located at the level of $587.87 on the weekly time frame chart, but the current up trend is still active. This scenario is valid as long as the level of $360 is broken.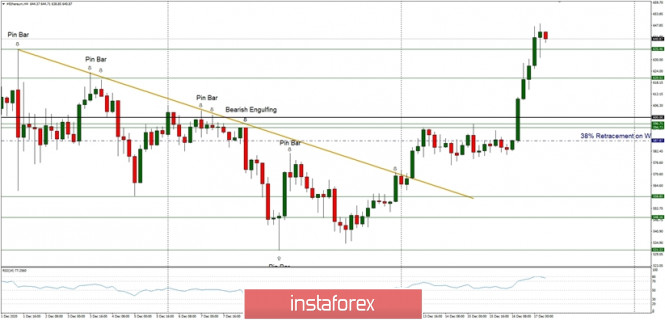 The material has been provided by InstaForex Company -
www.instaforex.com