EUR/USD
Analysis:
The euro market continues to strengthen the exchange rate. The last section of the trend started on November 4. Within its framework, a correction wave in the form of a shifting plane has been developing since December 3. This movement has entered its final phase.
Forecast:
Today, the current decline, the formation of a reversal, and the beginning of a counter price rise are expected to end.
Potential reversal zones
Resistance:
- 1.2270/1.2300
Support:
- 1.2170/1.2140
Recommendations:
There are no suitable conditions for selling euros today. It is recommended to refrain from entering the market during the decline and look for buy signals of the pair in the area of the support zone.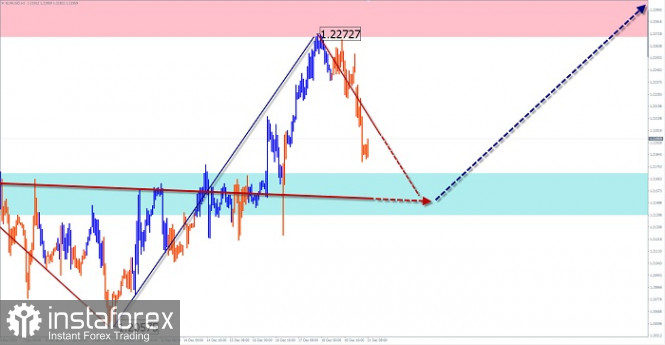 AUD/USD
Analysis:
The scale of the upward wave of the Australian dollar that began in March reaches the weekly TF price chart. The unfinished section started on November 2. An intermediate correction is formed in the area of the potential reversal zone. It has the wrong kind of structure and is close to completion.
Forecast:
There is a high probability that the current decline will end in the area of settlement support in the next session. Then you should wait for a change of course and return to the bullish vector of movement. During a reversal, a short-term puncture of the lower support border is not excluded.
Potential reversal zones
Resistance:
- 0.7620/0.7650
Support:
- 0.7550/0.7520
Recommendations:
The current decline is directed against the main trend, thus, selling is risky. It is recommended to track the reversal signals to buy the instrument.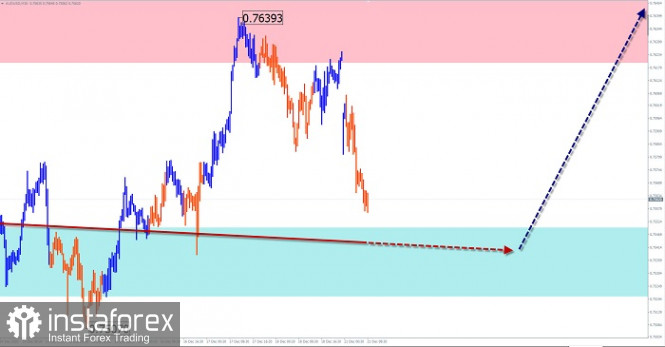 GBP/JPY
Analysis:
The price decline that began two days ago exceeded the scope of the correction of the previous bullish wave of December 7. The wave marking shows that the horizontal bearish structure of November 9 is still forming. It takes the place of a correction in the bullish wave of September 22.
forecast:
In the coming day, you can expect a general downward course. At the European session, a short-term rise in the resistance area is not excluded. The calculated support is located at the upper boundary of a wide zone of potential large-scale reversal.
Potential reversal zones
Resistance:
- 138.50/138.80
Support:
- 137.50/137.20
Recommendations:
Trading on the pair's market today is possible only within the intraday. Until clear reversal signals appear, the priority is to sell the instrument.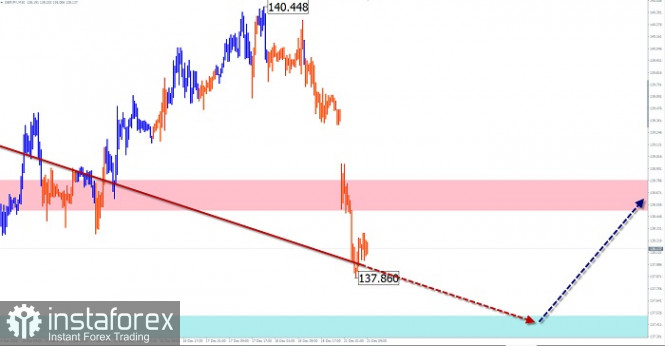 Explanation: In the simplified wave analysis (UVA), waves consist of 3 parts (A-B-C). The last incomplete wave is analyzed. The solid background of the arrows shows the formed structure, and the dotted one shows the expected movements.
Attention: The wave algorithm does not take into account the duration of the instrument's movements in time!
The material has been provided by InstaForex Company -
www.instaforex.com