As expected, the US Federal Reserve's final meeting for this year contributed to the continuation of the US dollar's weakness amid rising demand of American stocks. On the other hand, the results of the electoral vote which favors J. Biden as well as the remaining hopes for a speedy recovery of the country's economy in particular and the world as a whole, also added optimism to the market.
The meeting resulted in the provision of an updated economic forecast of the regulator for the next two years, which is more optimistic. If earlier in September, GDP growth in 2021 was considered at 3.6%-4.7%, then now, it has been raised to the range of 3.7%-5.0%. For 2022, it was revised from the range of 2.5%-3.3% to 3.0%-3.5%.
The forecast for the unemployment rate was also lowered for 2021 – from 5.0%-6.2% to 4.7%-5.4% range. As for 2022, it decreased from 4.0%-5.0% to 3.8%-4.6%. At the same time, the expected inflation rate next year was raised from the range of 1.6%-1.9% to 1.7%-1.8%. For 2022, the forecast was raised from 1.7%-1.9% to 1.8%-2.0%.
Moreover, Fed's head, J. Powell, who was optimistic and often described as "dovish", also responded positively to the demand for risky assets. Naturally, such news was expected to have a noticeable negative impact on the dollar, which resumed its decline against a basket of major currencies. Against this background, the ICE dollar index fell below 90 points and is trading at 89.89, losing 0.51%.
Assessing the general reaction of the market to several factors – the result of the Fed meeting and Powell's speech, as well as Biden's actual victory in the US presidential elections, which makes the political situation clearer, the beginning of vaccination in the States and in the Western countries against COVID-19, we expect the continuation of the downward pressure on the US dollar in the near future with a simultaneous increase in demand for company shares, despite the updated growth of stock indices and the obvious inflating of financial bubbles.
At the moment, investors seem to ignore it and will quickly use the current market. It may also get an additional boost to growth if the next program of fiscal stimulus measures is passed in Congress.
Forecast of the day:
The EUR/USD pair is trading above the level of 1.2200 amid Fed's monetary policy meeting. A consolidation above it will encourage the pair to further rise to 1.2300.
The NZD/USD pair is above the level of 0.7115. The weakness of the US dollar and the published positive data on New Zealand GDP, support the pair's growth. Thus, we expect it to continue rising to 0.7200.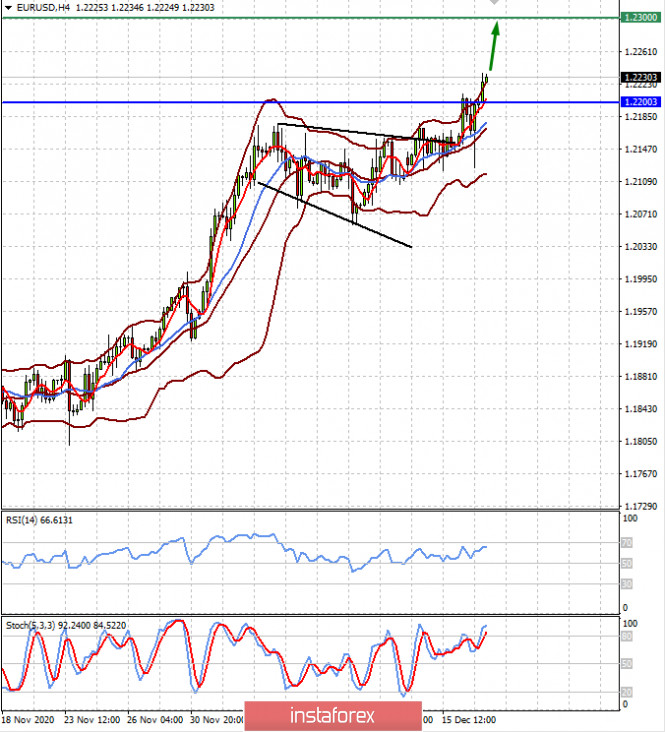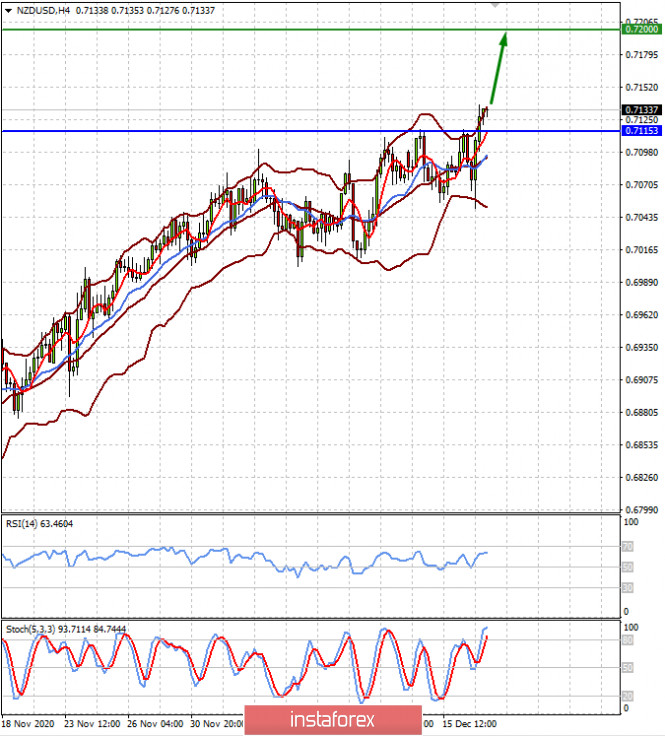 The material has been provided by InstaForex Company -
www.instaforex.com