Hourly chart of the GBP/USD pair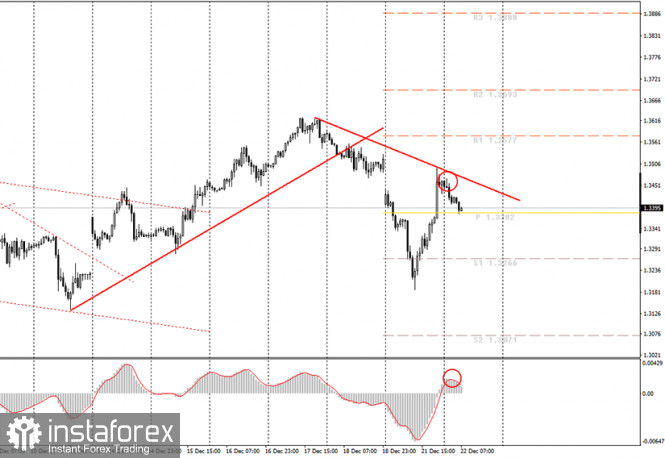 The GBP/USD pair also faced a downward reversal last night and started a new round of decline. In addition, a new downward trend line has appeared, which supports those who are trading to the downside. Consequently, there is a very high chance that the pound could fall. Last night, we advised you to open new short positions if a sell signal from MACD is generated. The signal has been generated (circled in the chart). Unfortunately, it appeared at night, but those who waited for it are now in profit of several tens of points. Yes, 30 points is not much, given the current volatility of the pound/dollar pair, but it's still a profit. Considering how Monday's trading went, many newbies could have finished their trek through the currency market. We advise you to open positions when there is a strong signal and strictly follow the trend. The market should be as calm as possible. It is better to make a small profit than a big loss.
2020 is nearing its end, however, as we see, it continues to present surprises. Yesterday is proof of that. The most interesting thing is that it is easy to explain why both the euro and the pound fell in the morning and eventually grew within the day, which is perhaps very rare in this crazy year. However, everything was logical yesterday. The euro and pound fell synchronously on news of a new strain of coronavirus that was found in the UK, and then synchronously rose when Democrats and Republicans in the US Congress finally agreed on a new stimulus package worth $900 billion for the US economy. This means that almost a trillion more US dollars will be poured into the markets, which naturally increases its supply. That is why the US dollar suffered in the afternoon. Today, the UK and the US are set to release GDP reports for the third quarter. However, we believe that market participants will pay more attention not to statistics, but to more global topics such as the coronavirus, a new stimulus package in the US, and negotiations on the Brexit trade deal. Logically, all of Monday's news has already been worked out, so the dollar may slightly rise again, at least to the area of yesterday's highs. However, today's volatility will almost definitely decrease, since it cannot go through 300 points every day.
Possible scenarios for December 22:
1) The upward trend is temporarily canceled since the price has settled below the upward trend line. So in order for you to consider trading up again, you need to wait until quotes settle above the downward trend line. In this case, you are advised to trade up while aiming for the resistance levels of 1.3577 and 1.3693. The second target is too far.
2) Sales, from our point of view, are now practical, since a new downward trend has formed. So now it is possible to maintain short positions opened on the last MACD signal, while aiming for the support level of 1.3266 and slightly below. Beginners have a potential to earn up to 100 points of profit on this signal.
On the chart:
Support and Resistance Levels are the Levels that serve as targets when buying or selling the pair. You can place Take Profit near these levels.
Red lines are the channels or trend lines that display the current trend and show in which direction it is better to trade now.
Up/down arrows show where you should sell or buy after reaching or breaking through particular levels.
The MACD indicator consists of a histogram and a signal line. When they cross, this is a signal to enter the market. It is recommended to use this indicator in combination with trend lines (channels and trend lines).
Important announcements and economic reports that you can always find in the news calendar can seriously influence the trajectory of a currency pair. Therefore, at the time of their release, we recommended trading as carefully as possible or exit the market in order to avoid a sharp price reversal.
Beginners on Forex should remember that not every single trade has to be profitable. The development of a clear strategy and money management are the key to success in trading over a long period of time.
The material has been provided by InstaForex Company -
www.instaforex.com