The United Kingdom is one of the European countries most affected by the coronavirus. The promising result of a possible cure for the coronavirus has been particularly positive for the British pound.
The pound maintains a strong uptrend, while other currencies are correcting technically. The pair remains firm amid the news on the coronavirus vaccine and the Brexit agreement.
From the technical point of view , we note that GBP/USD is very close to a key resistance zone of 5/8 of the murray level, this zone could stop the bullish momentum of this pair.
On the other hand, the eagle indicator which measures the strength of the market and anticipates a change in trend, is reaching an overbought zone, it is likely that in the next few hours there will be a correction in the pair.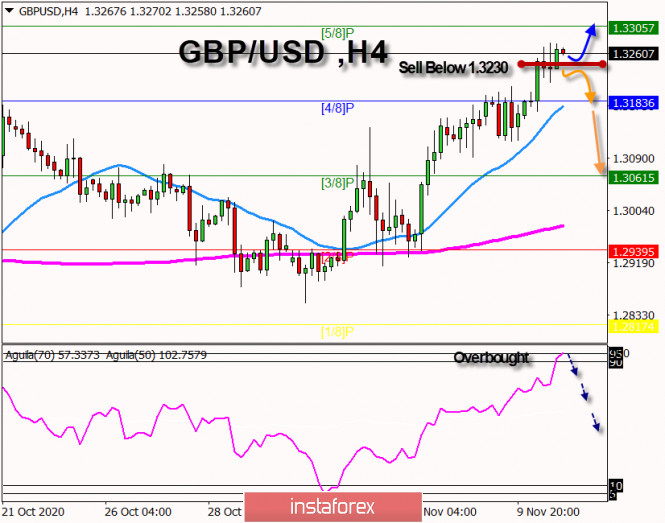 Our recommendation is if the GBP/USD pair trades below the 1.3230 pivot point zone again, it would be a good opportunity to sell short-term with targets at 1.3186 and 1.3125.
If the pound rebounds from the 1.3232 area, and consolidates above this level, it would be a good point to buy with targets at 1.3305 and 1.3337.
According to market sentiment, we note that 70% of traders are with positions to sell, and only 30% are buying, which would be a sign that the pair continues its short-term uptrend to levels of 1.3340 approximately.
Our Forecast for November 11:
Sell bellow 1.3230 with take profit in 1.3186 and 1.3125, Stop loss above 1.3270.
Buy if rebound around 1.3232 with target 1.3305 and 1.3340. Stop loss, below 1.3200.
Our support and resistance levels for November 11,
Resistance (1) 1.3311 Support (1) 1.3188
Resistance (2) 1.3356 Support (2) 1.3109
Resistance (3) 1.3435 Support (3) 1.3064
The material has been provided by InstaForex Company -
www.instaforex.com