A sharp decline in futures for major US stock indices, followed by the European ones opened the last day of the month on the global markets. On the other hand, Asia's trading dynamics is clear. The US dollar remains under pressure due to the general continuation of demand for risky assets.
The decline in global index futures is most likely due to technical factors, as well as the completion of the third quarter. Nevertheless, this month is filled with growth. During which, there was a significant increase in demand for risky assets due to the creation of effective vaccines, which caused a clear growth in positive mood in the market.
On the other hand, reports that the Trump administration may blacklist China's leading microchip company SMIC, as well as the national offshore oil and gas producer CNOOC, could lead to a rising tension between Washington and Beijing even before Mr. Biden comes to power in January.
The US dollar remained under pressure amid strong demand for company shares and several stimulus programs. Its ICE index is approaching the local low from August 30 at 91.725 points and currently, the indicator is at 91.677 points.
It is likely that the dollar can get support locally if the decline in stock index futures is supported by the indices themselves. But again, it is also highly possible that the decline in the currency markets will resume, primarily due to the expected continuation of demand for risky assets after the correction in the stock markets.
Today, there was a publication of Manufacturing PMI data for November. The indicator increased from 51.4 points to 52.1 points, with the forecasted growth of 51.5 points. At the same time, China's non-manufacturing business activity index (PMI) for November was pleasing too. The index rose from the October value of 56.2 points to 56.4 points, against the expected decline of 56.0 points.
The values of the indicators indicate that the Chinese economy continues to confidently recover from the COVID-19 pandemic, thereby supporting the global economy.
Overall, we expect the US dollar to gradually weaken after some correction in the stock markets, which may lead to its limited growth.
Forecast of the day:
The EUR/USD pair is trading at a local high of 1.2000. However, a possible correction in the stock markets will cause the pair to locally decline to the level of 1.1900.
The NZD/USD pair is above the level of 0.7010. A further decline to 0.6945 is expected on the general correction wave in the markets.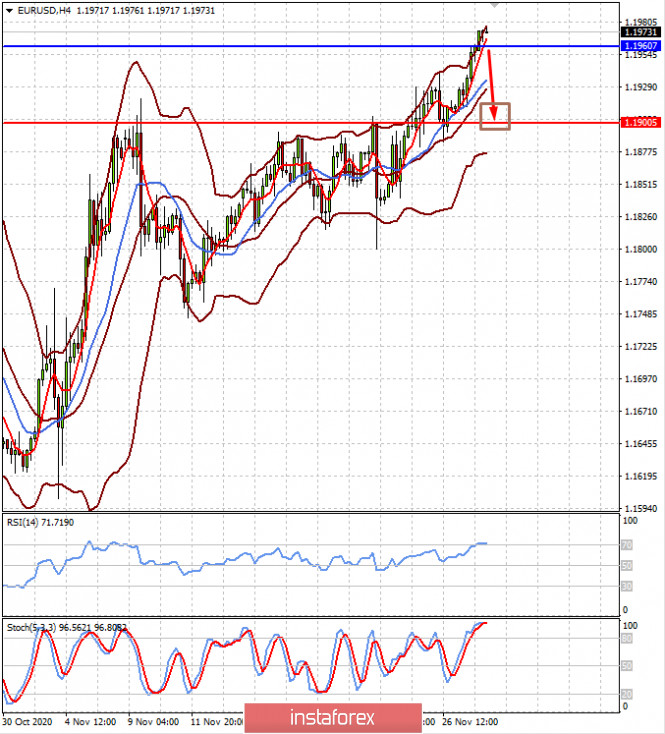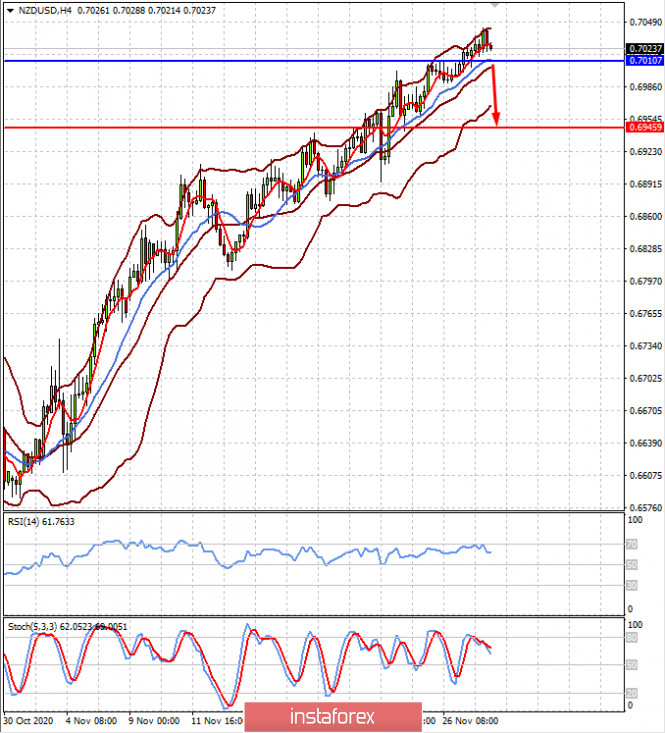 The material has been provided by InstaForex Company -
www.instaforex.com