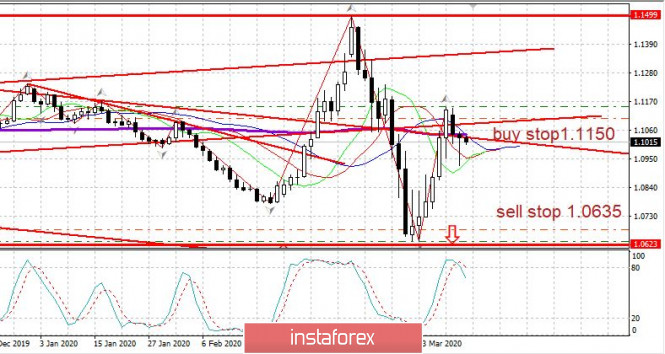 EUR/USD: There's consolidation ahead of the upcoming major statistics in the US.
Today, the first reports on the economy of US for the month of March will be released.
ADP's employment report for the month of March will come out at 13:15 London time. Experts' forecast on the index is minus 200 K, but I believe that its real figure might be much worse.
At 15:00 London time, the ISM report will be released, and any result below 50 will indicate a decline.
EUR/USD: Buy at the break of 1.1150 upwards. Stop at 1.1105. The target is 1.1250.
The current center of the pandemic is the United States.
As of the morning of April 1, the number of infected people in the United States is 184 thousand. There's an increase of +24.7 thousand cases per day, or almost +15% per day.
The US government predicts that 100-240 thousand Americans will die from the pandemic. If we take the lower limit as the basis, the number of deaths will be 100 thousand deaths. If we take into account the 4% mortality rate of all infected, the number of patients should be 2.5 million.
Meanwhile, in Europe: the most severe situation is still in Spain, with 96 thousand patients. There's an increase of +8,000 per day, and increase of +748 deaths per day.
In Italy, the number of deaths due to the virus has increased slightly- +837 per day. The good news is that the number of new infections is +400, almost half of that in Spain.
Russia has 2,337 confirmed COVID-19 cases. Most of them came from Moscow, so a quarantine was introduced until April 5. In Ukraine, the number of cases increased sharply. It is now 600.
Although the US market is still growing due to the support measures of the government, I personally believe that the pandemic in the US, as well as its negative impact on the economy, will cause a new big wave of decline in the markets.
Nevertheless, we are anticipating the reports on the US economy.
The material has been provided by InstaForex Company -
www.instaforex.com