To open long positions on EURUSD you need:
The sharp turn of the market after Friday's data on the economy of the eurozone and the US indicates how uneasy the situation is now. I stated in my US session forecast that I advise you to open short positions from the resistance of 1.0818, the test of which resulted in the euro's downward correction to the support area of 1.0787. The moment of entering and exiting the market is clearly visible on the 5-minute chart. At the moment, the bulls have managed to regain the 1.0816 level and are trying to build a new upward trend from it to the resistance area of 1.0845. The primary task of buyers for the first half of the day will be a breakout and consolidation above this level, which will open a direct path to the highs of 1.0882 and 1.0908, where I recommend taking profits. In case the euro falls under the support of 1.0816 in the European session, it is best to postpone long positions until the test of the low of 1.0787, or buy EUR/USD immediately on the rebound from the area of 1.0760.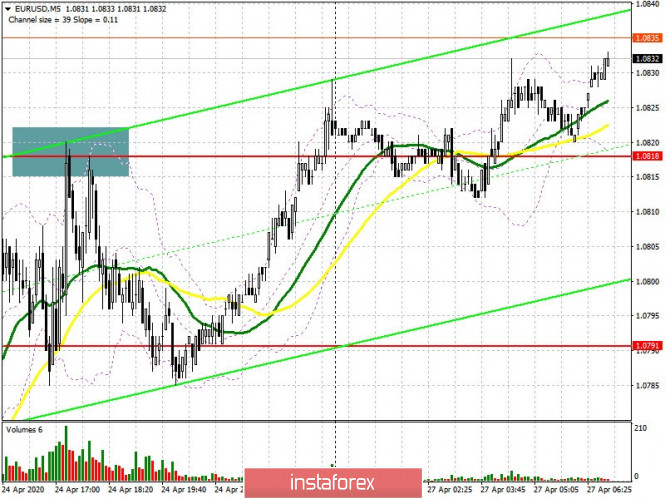 To open short positions on EURUSD you need:
Since there aren't any fundamental data set for release today, sellers of the euro are not in a rush to return to the market, waiting for a test of larger resistances. Forming a false breakout in the area of 1.0845 will be a signal to open short positions. However, more importantly, sellers are supposed to break through and consolidate below the support of 1.0816, which will raise the pressure on the euro and push it to the lows of 1.0787 and 1.0760, where I recommend taking profits. In case EUR/USD grows above the resistance of 1.0845 in the morning, it is best to go back to short positions for a rebound from the high of 1.0882, and then, count on a correction of 30-40 points within the day.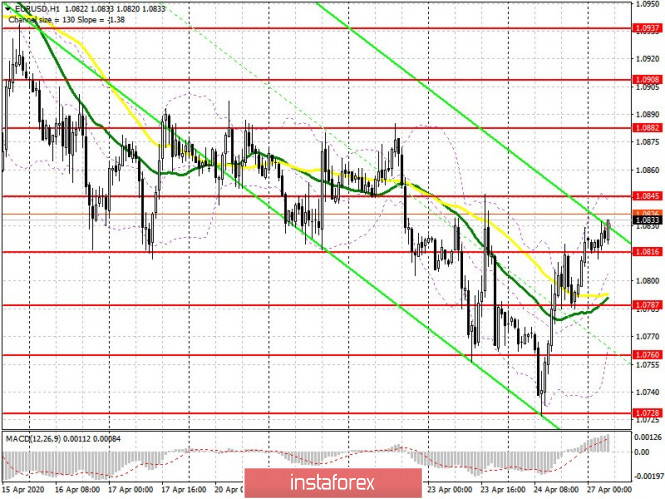 Signals of indicators:
Moving averages
Trading is above 30 and 50 moving averages, which indicates the bullish nature of the market.
Note: The period and prices of moving averages are considered by the author on the hourly chart H1 and differs from the general definition of the classic daily moving averages on the daily chart D1.
Bollinger bands
Growth may be limited by the upper level of the indicator at 1.0845. In case the euro falls, it is possible to open long positions for a rebound from the lower border of the indicator in the 1.0770 area.
Description of indicators
Moving average (moving average determines the current trend by smoothing out volatility and noise). Period 50. The graph is marked in yellow.
Moving average (moving average determines the current trend by smoothing out volatility and noise). Period 30. The graph is marked in green.
MACD indicator (Moving Average Convergence / Divergence - Moving Average Convergence / Divergence) Fast EMA period 12. Slow EMA period 26. SMA period 9
Bollinger Bands (Bollinger Bands). Period 20
The material has been provided by InstaForex Company -
www.instaforex.com