To open long positions on EURUSD you need:
Yesterday's data on the eurozone did not help the single currency, which continued to trade in the side channel along with the US dollar. The pair is currently located in the middle of the channel of 1.0851 and its direction is not determined, since a lot depends on the EU summit tomorrow, at which the parties will again try to agree on a financial assistance plan, as well as an increase in the EU budget. The bulls will try to gain a foothold at the 1.0851 level in the morning, which will be a signal to buy the euro in hopes of breaking through the upper border of the downward channel and updating the high of 1.0894. However, the bulls' long-term goal at the end of the week will be the resistance of 1.0937, where I advise taking profits. In case the euro declines further due to the lack of fundamental statistics, one can look at long positions after forming a false breakout in the support area of 1.0814, or buy EUR/USD immediately on the rebound from the April low of 1.0770.
To open short positions on EURUSD you need:
Euro sellers need to return the pair to the 1.0851 level, around which trading is ongoing. Testing this area on the volume from the bottom up will be a signal to open short positions, since there is no reason to count on weak fundamental data on the eurozone economy today. A bad insider news at the EU summit will also put pressure on the euro. The immediate goal of the bears is the lower border of the side channel at 1.0814, a break which will raise the pressure on the pair and will lead to updating the April low at 1.0770, where I recommend taking profits. With a EUR/USD growth scenario above resistance at 1.0851 in the morning, short positions are best returned to a rebound from a high of 1.0894, counting on a correction of 20-30 points within the day, or selling the euro from a larger resistance at 1.0937.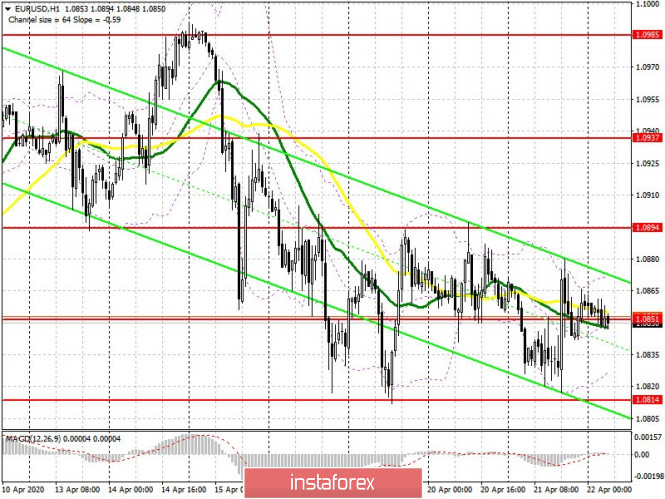 Signals of indicators:
Moving averages
Trade is conducted in the region of 30 and 50 moving averages, which indicates market uncertainty.
Note: The period and prices of moving averages are considered by the author on the hourly chart H1 and differs from the general definition of the classic daily moving averages on the daily chart D1.
Bollinger bands
Growth may be limited by the upper level of the indicator at 1.0870. The pair will be supported by the lower border at 1.0835.
Description of indicators
Moving average (moving average determines the current trend by smoothing out volatility and noise). Period 50. The graph is marked in yellow.
Moving average (moving average determines the current trend by smoothing out volatility and noise). Period 30. The graph is marked in green.
MACD indicator (Moving Average Convergence / Divergence - moving average convergence / divergence) Fast EMA period 12. Slow EMA period 26. SMA period 9
Bollinger Bands (Bollinger Bands). Period 20
The material has been provided by InstaForex Company -
www.instaforex.com