To open long positions on GBP/USD you need:
Even the fact that the Bank of England can lower interest rates at any time does not repel the purchases of the British pound, which also indicates the weakness of the US dollar after the Federal Reserve lowered interest rates earlier this week. At the moment, pound buyers have a specific goal of breakout and consolidation above the resistance of 1.2973, which will lead to further growth in the area of highs of 1.3006 and 1.3036, where I recommend taking profits. In case of news on trade negotiations, GBP/USD may decline, however, this will only lead to the return of new buyers to the market. Long positions can be seen after the formation of a false breakout in the support area of 1.2918, or you can buy a pound for a rebound from a low of 1.2875. Given that important fundamental data today is released only on the US economy in the afternoon, bulls may have problems with growth above 1.2973.
To open short positions on GBP/USD you need:
The pound sellers can take advantage of the growth above the level of 1.2973, since the formation of a false breakout in this range will be the first signal to open short positions in order to correct them in the support area of 1.2918, where the moving averages are held. However, the farther target will be the area of 1.2875, where the lower boundary of the current rising channel is located. It is there that I recommend taking profits. With a growth scenario above resistance 1.2973 in the morning, short positions can be returned on a false breakout from a high of 1.3006, or you can sell GBP/USD immediately to a rebound from resistance 1.3036.
Signals of indicators:
Moving averages
Trading is conducted above 30 and 50 moving average, which indicates the likely continuation of the upward correction of the pair.
Bollinger bands
Growth will be limited by the upper level of the indicator at 1.2973. In the case the pound falls, the middle of the channel 1.2900 will provide support.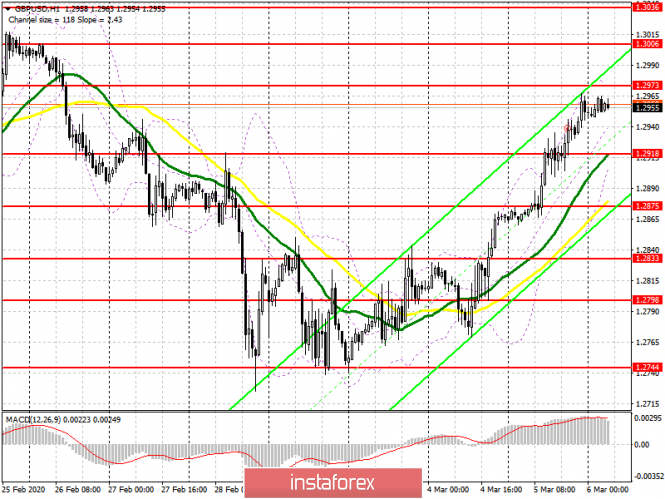 Description of indicators
Moving average (moving average determines the current trend by smoothing out volatility and noise). Period 50. The graph is marked in yellow.
Moving average (moving average determines the current trend by smoothing out volatility and noise). Period 30. The graph is marked in green.
MACD indicator (Moving Average Convergence / Divergence - Moving Average Convergence / Divergence) Fast EMA period 12. Slow EMA period 26. SMA period 9
Bollinger Bands (Bollinger Bands). Period 20
The material has been provided by InstaForex Company -
www.instaforex.com