To open long positions on GBP/USD, you need:
The British pound collapsed to the lows of the 1985's yesterday and it looks like the bears are not going to stop. Talking about buying in the current volatile market without large support levels is not quite right. Therefore, I recommend that traders refrain from opening long positions and searching for the bottom, since the 2008 crisis shows that the bottom may not be quite soon, and the current decline is only the tip of the iceberg. The task of buyers for the first half of the day will be to form a false breakout at the low of 1.1458, which may lead to an upward correction in the area of 1.1562 and 1.1653. However, it is not entirely true to expect a larger increase.
To open short positions on GBP/USD, you need:
Sellers will struggle to break through and consolidate below the support of 1.1458, which will open the pound a direct path to the area of the lows of 1.1400 and 1.1360. Longer-term goals will be the support 1.1300 and 1.1245, where I recommend taking profits. Given that nothing good can be expected from new economic indicators, especially those related to the services sector, short positions in GBP/USD can also be opened after small upward corrections. The first such level will be the resistance of 1.1562, where the formation of a false breakout will be a signal to sell the pound. Short positions for a rebound can be seen in the resistance area of 1.1653, or even higher, from the high of 1.1746.
Signals of indicators:
Moving averages
Trading is conducted below 30 and 50 moving average, which indicates a continuation of the bearish trend.
Bollinger bands
In the event of a decline, support will be provided by the lower boundary of the indicator in the region of 1.1341. Growth will be limited by the average boundary of the indicator in the 1.1653 area, and you can also sell the pound for a rebound from the upper boundary in the area of 1.1927.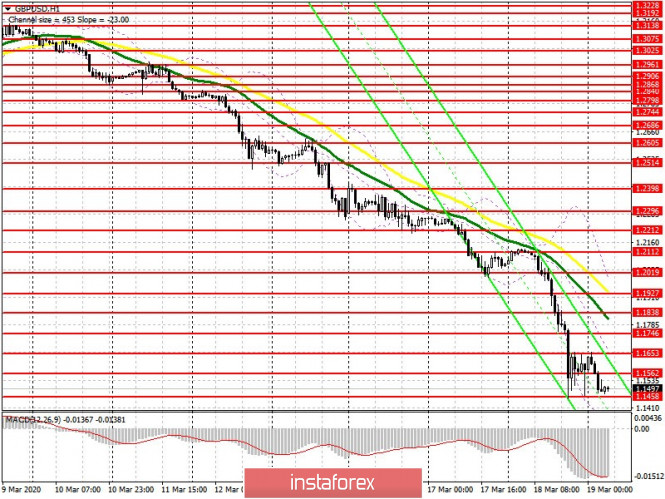 Description of indicators
Moving average (moving average determines the current trend by smoothing out volatility and noise). Period 50. The graph is marked in yellow.
Moving average (moving average determines the current trend by smoothing out volatility and noise). Period 30. The graph is marked in green.
MACD indicator (Moving Average Convergence / Divergence - moving average convergence / divergence) Fast EMA period 12. Slow EMA period 26. SMA period 9
Bollinger Bands (Bollinger Bands). Period 20
The material has been provided by InstaForex Company -
www.instaforex.com