To open long positions on GBPUSD, you need:
Yesterday, buyers of the pound did not manage to stay above the lows of the previous day, which completely destroyed the hope for a recovery in the short term. Today, the bulls will fight for the resistance of 1.2957, the return of which will restore positions to the area of the highs of 1.3015 and 1.3064, where I recommend fixing the profits. However, important fundamental statistics are not published in the UK today, and only news related to the trade agreement between the UK and the EU can lead to a surge in volatility. So far, there has been no response from the British side to a possible change in the MiFID II from the EU, which continues to put pressure on the pound. In the scenario of a further decline in GBP/USD in the first half of the day, it is best to return to long positions only after updating the minimum of 1.2896 or buy the pound immediately on a rebound from the support of 1.2845.
To open short positions on GBPUSD, you need:
Sellers are confidently following their plan, and their next goal is to update the support of 1.2896. However, a more acceptable signal for opening short positions in the current conditions will be the formation of a false breakdown in the resistance area of 1.2957, just above which you can put a convenient stop. Much will also depend on data on the unemployment rate in the United States. A good report will quickly push GBP/USD to a minimum of 1.2896, where I recommend fixing the profits. A break in this range will also release the pound into a free flight to the support area of 1.2845. In a scenario of growth of the pair above the resistance of 1.2957 after the data on employment in the non-agricultural sector, you can return to short positions on the resistance test of 1.3015 or sell the pound immediately for a rebound from the maximum of 1.3064.
Signals of indicators:
Moving averages
Trading is conducted below the 30 and 50 moving averages, which indicates another predominance of the pound sellers in the market.
Bollinger Bands
A break of the upper border of the indicator at 1.2970 will lead to a sharp increase in the pound. In the scenario of a pair's decline, the lower border of the indicator around 1.2900 may provide support.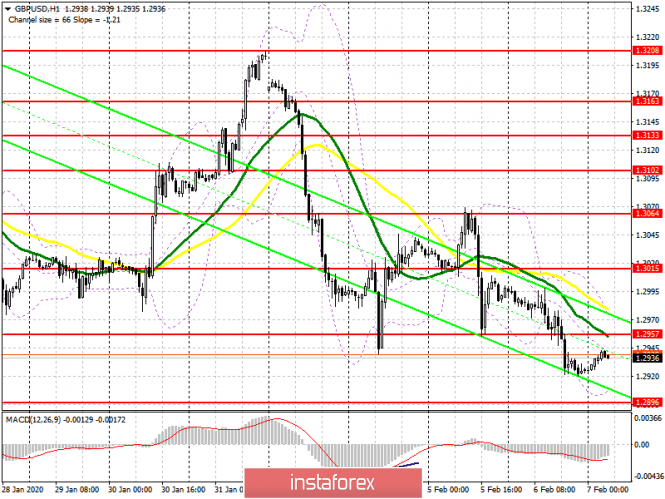 Description of indicators
Moving average (moving average determines the current trend by smoothing out volatility and noise). Period 50. The graph is marked in yellow.
Moving average (moving average determines the current trend by smoothing out volatility and noise). Period 30. The graph is marked in green.
MACD indicator (Moving Average Convergence / Divergence - Moving Average Convergence / Divergence) Fast EMA Period 12. Slow EMA Period 26. SMA Period 9
Bollinger Bands (Bollinger Bands). Period 20
The material has been provided by InstaForex Company -
www.instaforex.com